The highest point of the Azores and Portugal is Pico, which stands for the name of an island and a volcano. Due to its volcanic nature, Pico is a black island, but is far from lifeless, in fact. It's full of green lakes, flowers, and of course cows. Looks like this threesome is a must-have for every Azores island. I was also determined to climb the Pico volcano. I couldn't do it because the hiking tour was overbooked, but I do not feel disappointed. After all, travel is not only about what we look at, but also about what we live through. And I have watched and loved many things on the island of Pico, which I will tell you in this blog post.
Interesting facts about Pico
It is the second-largest island of Azores, inhabited since the 15th century. Although not densely inhabited as on the territory of 446 km2 there are only 14,000 people. Unlike Terceira, which is similar in the territory, there are 4 times more inhabitants.  The low population density is due to the 2,351 m high Pico volcano, which dominates the island's skyline, from which time to time hot smoke and lava erupt to the surface. The last eruption was registered in 1963, but the most significant volcanic activities date back to 1718-20, traces of which are still visible in the form of lava flows. .
The island is hit by continuous earthquakes of minor to medium magnitude due to the fact that the epicenter of seismic movements falls between the islands of Faial-Pico or Pico-São Jorge. Although in 2009 instruments showed some activity and volcanic gases were detected in the air from the surrounding Faial (I wrote about this island here), eventually the phenomenon subsided.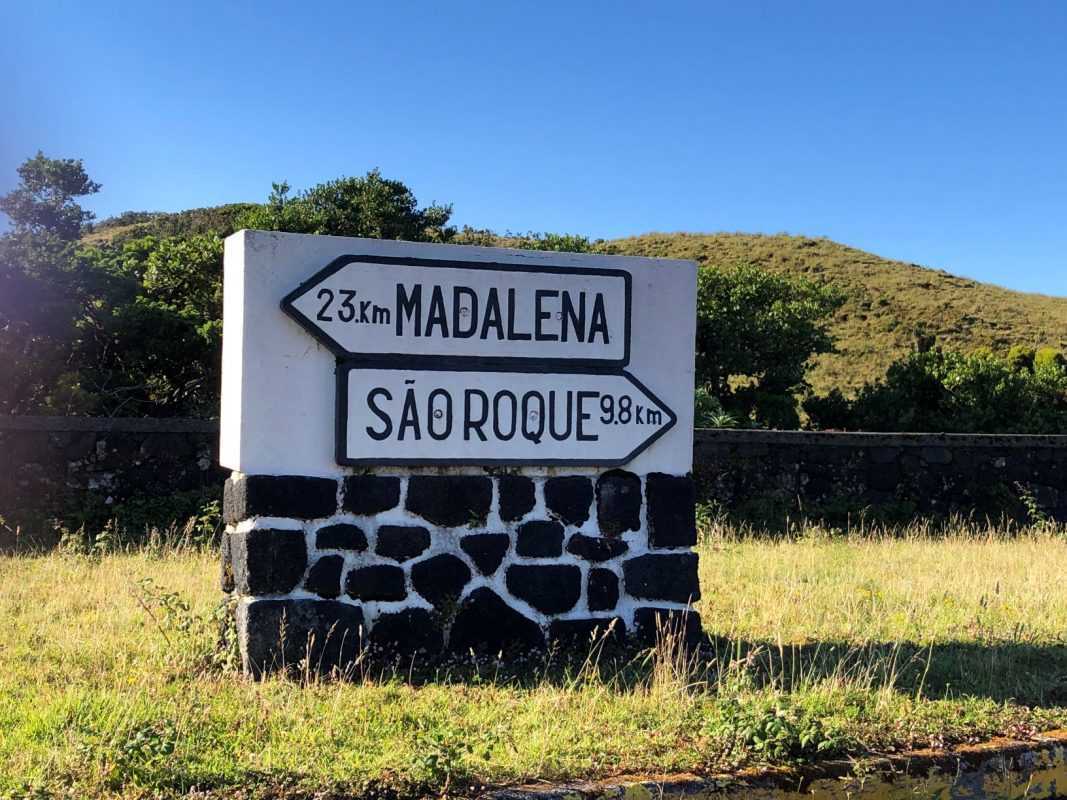 UNESCO World Heritage vineyards
Volcanic eruptions have resulted in a nutrient-rich breeding ground on the island of Pico, which had a positive impact on agricultural activity, especially viticulture. Here, vineyards don't like the regular ones, where wire ropes are stretched on which plant vines run-up. Pico has quite unique viticulture, not coincidentally it became a UNESCO World Heritage Site in 2004.
According to a centuries-old tradition, labyrinthine walls (paredes /murinhos) are first raised from basalt rock, which areas are then parceled (currais) and grapes are planted in them. The capitals grow relatively low, they are often less than 1 meter high from the ground. At first, I barely noticed the vineyards because of the walls. The most famous grape type is verdelho, which can be found only on the islands of Terceira and Graciosa, next to Pico. The most beautiful vineyards are near Criação Velha, but the Moinho do Frade windmill with the Pico volcano can also be a reference point. While you are in Pico, it's worth tasting a glass of wine here, but prepare not only for the special flavor but also for the price (1 bottle is around €10).
Whales
In addition to grapes, the other traditional activity – which is now not forgotten, but has been lost in the past – is whale hunting. In addition to agricultural activity, Pico's main source of livelihood was the sperm whales (like Moby Dick). There was a specialized hunter in almost every local family. After the whale hunting was imposed in Europe, all whale processing factories in the Azores were closed in 1984. In Pico, there are two other places where you can meet the past. A whale museum (Museo du Baleeiros) has been set up in Lajes do Pico, where you can see original 19th-century fishing houses and tools, while in São Roque do Pico we can get an insight into the everyday life of the former whale processing factory.
It was a creepy and weird feeling to see all this as a diver, but I don't want to bury my head in the sand as all these belong to the past of the Azores. Today, whale hunting has fortunately been replaced by another activity, namely whale watching. If you are lucky, you can see some of the 28 native species of whales of the Atlantic Ocean here. It's good to know their marching season is not due in summer, but if you want to go on a boat trip, it's worth a try.
Pico volcano
Let's talk about the volcano as it is still the main attraction of the island. The 2,351-meter-high Pico is a special place, not only for climbers but also for tourists. With help of a well-built hiking trail and information boards, anyone can reach the lower part of the mountain, Piquinho, but with sufficient fitness and determination, Topo da Montanha, 70 meters up from here, can be also conquered. In fine weather, you can enjoy beautiful views of the volcano from both Pico and the nearby island of Faial (I wrote about this here) or São Jorge (read more about it here). Although the weather on the Azores is quite unpredictable, it's often cloudy and foggy skies, but at least we're above the clouds, right?

Hiking up
We could only reach the registration office at 1,200 meters. We wanted to take a walk along the side of the volcano, even if not completely to the top, but we were not given the opportunity to do so. Not because we didn't ask for a guide, you can hit the road on your own. It's good to know there's a limit on how many people are allowed to walk on the mountain at the same time. They won't let you up even if you just want to walk a few hundred meters: you have to register and wait as two English ladies have been waiting for it at least for 2.5 hours. I'm talking about walking, not climbing.
With a sore heart, we were forced to give up the tour because we didn't have to wait for so long. In my guide to the Azores (read here), I've already shared some useful tips, but if you're preparing to Pico, I'd like to complete the list with the following ten points:
1. If you want to climb the volcano, spend a night on Pico. It's not going to work if you take the very first ferry over from another island and start climbing sometime during the day. Take a full day, as climbing takes 7-8 hours.
2. It is worth going to the mountain registration center as early as possible (they are 0-24 open), as you may not be able to leave immediately after registration. We experienced this in high season in summer, when the limit was 200 people/day who are allowed to be on the mountain at the same time. While one day 320 people can get permission to climb up. If the weather's bad, you can't climb up.
3. The weather is very changeable on the mountain: it can be 10 degrees cooler on top than at the bottom. In many places there is no shade when the sun shines, headgear and sun cream is highly recommended.
4. You don't need climbing equipment, but a windbreaker outside of layered clothing (rain and cold), high-stemmed hiking boots, sunglasses, headgear, gloves (if you're not going in summer and you're cold) and hiking sticks are highly recommended. The latter comes in handy on different terrains and helps you in hiking.
5. If you want to spend the night on the edge of the crater (it's possible), you should have a sleeping bag, headlight, tent and extra warm clothes.
6. Food and water are not available on the trail and there is just a minimal buffet at the registration point, so take a minimum of 1.5 liters of liquid and sandwich with you on the road.
7. It's relatively easy to navigate on the volcano. You get a GPS device, but there are also 47 road signs that help to show the direction. Whether you're going alone or with a guide, follow these signs. If you get lost on the fly (e.g. there is fog), always return back to the previous point. Don't ever try to cut off the road. There's an air rescue opportunity, they're coming for you for €1,000.
8. Registration is required on departure and arrival. Climbing Piquinho costs €15, the top is €20, while the night above costs an extra €10.
9. Don't litter on the mountain, and since it's a nature reserve, don't take anything from here and don't rip the plants off.

Lava caves
There are two lava caves on the island of Pico, of which I would recommend visiting Gruta das Torres. Since other Hungarian travel blogs did not mention that it is necessary to register in advance for weeks, because all tour times are booked and only 15 people can stay in the cave at the same time, we did not get in. Even though we waited an hour in case someone didn't show up we had no luck. Besides us, at least six other tourists waited peacefully but they didn't get in either.
So without registration, I can't show you my own pictures about this place, forgive me. If you like to get into Gruta das Torres, where you will otherwise be able to do the with a cave guide, check-in in advance here by e-mail or by phone, pay (8€) on site.
The Furna de Frei Mattias lava cave is not subject to registration. Actually, we barely found it because, on the one hand, it's not signposted anywhere. On the other hand, it's in the middle of a pasture. This is meant literally because the road leads to it through cows and fences. The travel descriptions said level 1, i.e. the easiest to get around, so I didn't see it that way. Stopping at the narrow and dark entrance to the cave, while the water drips on my head from above, I didn't really feel compelled to go in. So if you want to see this cave from the inside, a helmet and flashlight wouldn't hurt. And it's not a disadvantage if you don't have claustrophobia.

Island of the seven lakes
Although Pico doesn't surpass the island of Flores (I wrote about it here) in terms of lakes, it certainly does in terms of number. There are seven lakes to choose from on Pico, some of which are quite unparalleled and have a surreal view. Such as Lagoa do Capitao, whose convulsive trees on the shores are already remarkable in themselves. But the view of a pregnant cow bathing in the water and fog, with the Pico volcano in the background, was really an amazing position. Not surprisingly this photo became one of the most shared pictures on my Instagram page ( you can follow me here)
But it was equally astounding to see Lagoa do Peixinho, sitting on the grass-surrounded shore, only to notice in hindsight in the photo that the lake looks like a spoon. Or am I the only one with too much imagination?
In any case, going to Pico, let's not narrow down your visit just to see the volcano, because you miss a lot of nice things. I'm showing you a selection of pictures to close my adventures on Pico island.
Follow my travel stories and adventures on Instagram and Facebook