There are many expressions that describe the Azores. I've heard them referred to as mini Hawaiian Islands. There are theories that Atlantis used to be here. In fact, I have read also this will be the next Iceland in terms of its natural sites and beauties. I hope that won't happen and won't become as touristic and crowded as Iceland. As the westernmost point in Europe, the Azores are an untouched and rather isolated world. Although there are more and more visitors every year, Flores still feels like a secret and ancient world. This is the place where every lake, bush and waterfall are still waiting to be discovered. I have visited many parts of the world, from rainforests to the depths of the seas. Yet in Flores I have seen so much beauty in one place that the island deserved to be the Garden of Eden of Europe.
The discovery of the Azores was preceded by a long plan, which I wrote about in a previous post and on my Instagram page, accompanied by a lot of useful advice. Our trip from Budapest led first to Flores from the group of nine Azores, where we arrived after a 15-hour journey.
General information
The island is just 18 km long and 14 km wide and is the westernmost point in Europe and the Azores. So much so that it is already lying on the American tectonic plate, from where strong volcanic activity lifted the island up to the surface along with the other islands. It is surprising that Flores is a very mountainous and valleyed area, with virtually hardly any flat area, yet its highest point is "only" the 914-meter Morro Alto. I write that it's surprising because every time we drove through the nature reserve, it was always in fog and cloud, which made me think we are higher.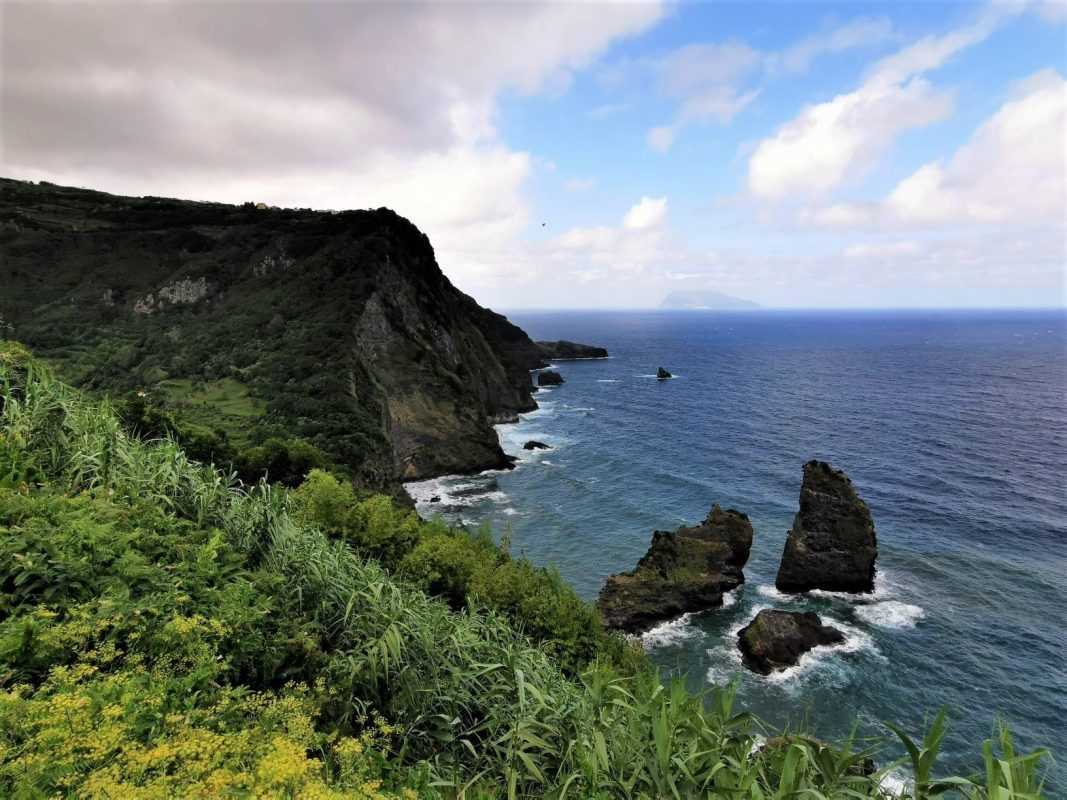 Flores is populated since the 15th century, but only 3,800 people live here. Although I haven't counted I suspect that is at least thousand of cows, who walk freely all over the island.
Most of the time they walk on breakneck slopes and ruminate meekly next to hydrangea bushes. But you can meet them on the road despite the forbidden signs too. They have a pretty undisturbed life without fences. It seems it's unnatural for them to meet people. Right there aren't many people and tourists on this island.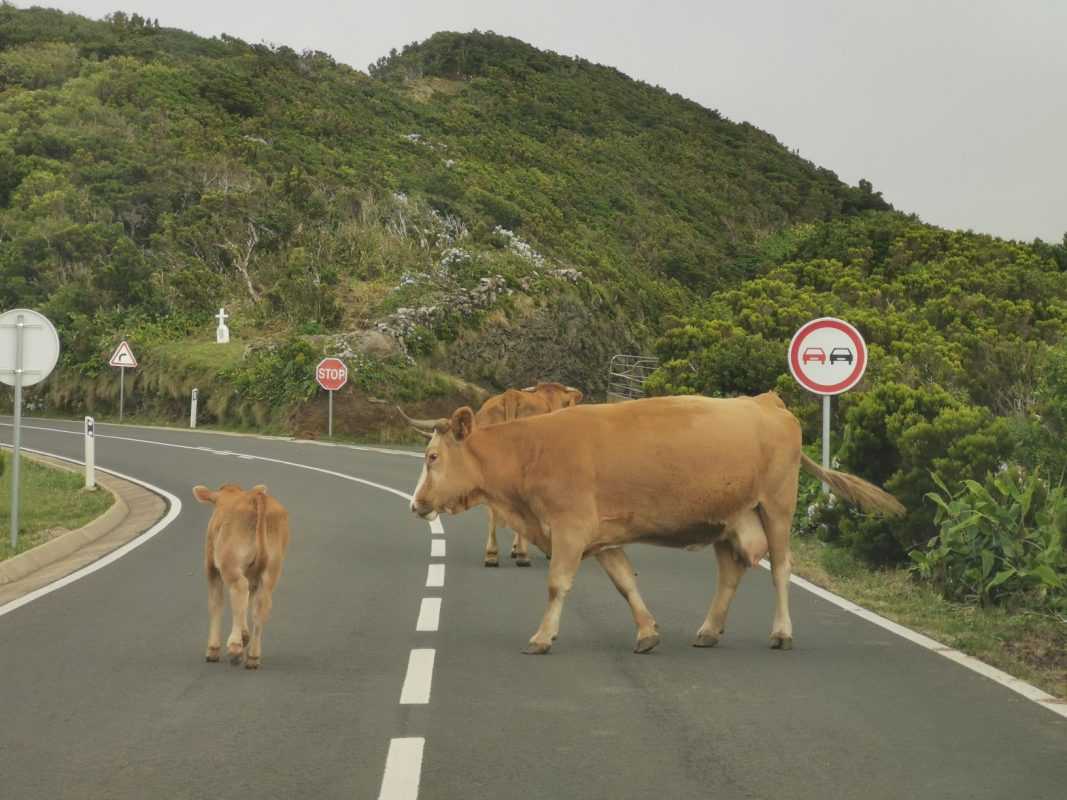 Flores has two major cities: Santa Cruz – which is the center, inhabited by 1,700 people, and here's the airport – and the other is Lajes, where our accommodation was.  History and time left their prints on many buildings. It's a bit like the island is forgotten. In addition to beautiful apartment buildings and churches built from volcanic lava stones, there are many uninhabited buildings that are slowly dreary and it is a matter of time before nature gets them back.
Because nature here in Flores is quite amazing. Even the name of the island allows us to suspect that it is a special place (Flores means flowers in Portuguese). But not only are the hydrangeas, bluebells and subtropical plants unknown to me, but also lush forests, crystal clear waterfalls, dried-up or water-filled volcanic crater lakes and the incredible untouched nature you have only seen in the movies.
Fauna and landscape
If the name of the island means flowers, let's start with this. I would not leave much comment on the pictures below. Especially as I do not know the names of all plants in Hungarian either. As an illustration, such flowers grow in this size and in such quantities on the island of Flores.
There are trees here, too, because without them the Garden of Eden would not be complete. Interestingly, in the national park around Morro Alto, trees grow to less than half a metre high (obviously due to bad weather and wind), while in lower areas they reach almost sky-high.
The paths overgrown with moss and ferns are as wildly novel as if no one had visited them for centuries. You do find hidden gems everywhere in Flores without looking for them.
Views
Speaking of roads, as I wrote in my previous blog post, the condition of the roads in the Azores is impeccable. You can't go too fast because of the climbs and serpentines, but it's also not worth rushing. Trust me you will stop every 10 minutes on the way to admire the view and scenery. Lookouts are usually marked with blue and white tiled signs next to the road and it is worth watching them. The view is amazing from everywhere in Flores, but I recommend these four places with a warm heart: Miradouro do Portal, Miradouro Craveira Lopes, Miradouro dos Caimbros, Miradouro da Pedrinha.
Crater lakes
Flores rests on volcanic rock, resulting in a lot of crater lakes and dried-up caldera. Most of the lakes are concentrated inside the island. The most well-known is Caldeira Negra and Caldeira Comprida, side by side.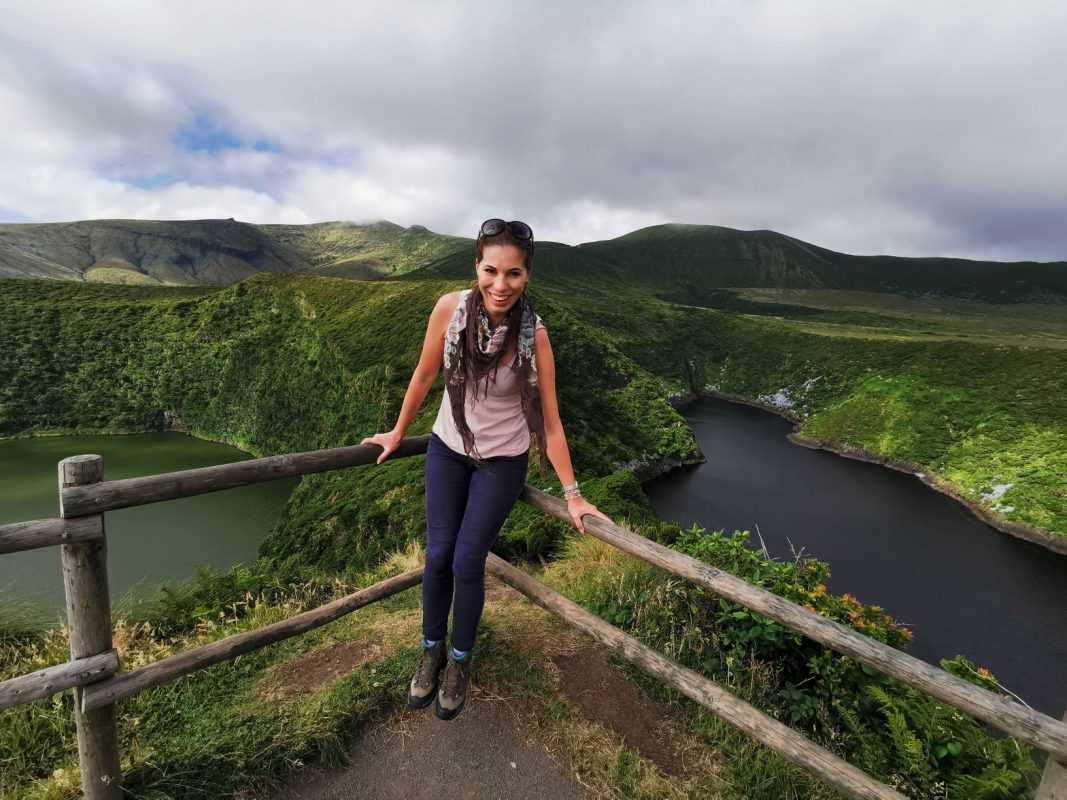 In sunny weather, it is best to see that one is light green and the other is black. Don't be fooled by their names, Negra is green and Comprida is black. We came back here three times to finally catch a good (not foggy or rainy) time, but it was worth the effort. For me, the most extraordinary and beautiful lake was the Caldeira Funda, which, with its green pool, hydrangea flowers and huge extent wedged between the high hills, is really as beautiful as a postcard.
Just on the level of mentioning there are further lakes, like Caldeira Rasa and Folia, while Caldeira Branca and Seca are hidden dried-up pools. You can't go down to any of them, but from above they still offer a beautiful sight
Buildings
Although Flores is visited primarily for its natural beauties, I brought some pictures from settlements like Santa Cruz, Lajes, Fajã Grande, which faithfully reflect the peace and harmony between humans and nature.
Waterfalls
On the island of Flores, waterfalls definitely deserve distinctive attention. Actually, if I have to say one thing here, that's worth visiting, it would be the waterfalls. At Lake Lagoa dos Patos, at least 10 waterfalls fall from the top of the mountains into the depths at the same time, which is most reminiscent of the iconic scenes in the Avatar film. The 20-minute walk to the lake takes place in no less wildly novel environment than where the waterfalls are located. Plus, it's a red dot that we only met two or three people, so we were able to look at this wonderland quietly and undisturbed.
But don't get offended by the other waterfalls, let's say a few words about them, too. I couldn't admire Poco do Bacalhaut in all its beauty, because the rental car braking system was worn out and we had to take it back. So I just saw the waterfall but did not stop by sadly.
Due to the detour, we run out of time to go back to Bacalhau Waterfall, but we comforted ourselves with waterfalls flowing into the ocean, which can only be seen from the open water, from a boat.
Natural formations and coastline
One of the most spectacular rock formations on the southwestern coast of Flores is Rocha dos Bordões, which with its vertical basalt columns reminded me of Hegyestű at Lake Balaton. The road takes you around the cliff, so you can see the wall up close. You can imagine the powerful forces that used to work here, that could push a mountain this high.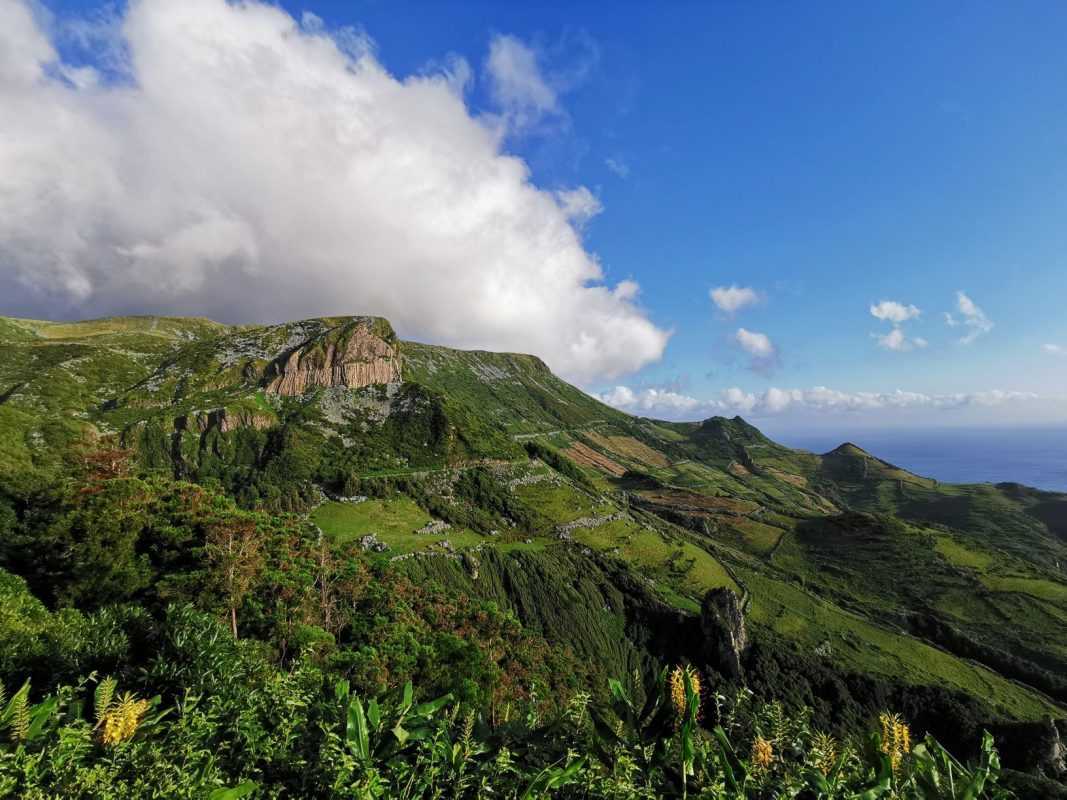 In addition to the mainland, there are spectacular rock formations in the north of the island in the Atlantic Ocean. A half-hour boat ride from Santa Cruz is possible and worth going along the coast, where you can see caves carved into rock and volcanic peaks protruding from the water next to the previously mentioned waterfalls flowing into the ocean. They're a beautiful and unforgettable sight that will surely remain in your memory.
If you want to see a nice beach in Flores, you should drive to Ponta Delgada, the northernmost point of the island. The part next to the harbor is a very nice place. You can climb down on ladders cut into volcanic rock but it's not advised to bathe because of the strong waves and sharp rocks. However you can just sit on the beach, listen to the roar of the ocean and waves. I think there is no nicer and more suitable place for that on the island.
Farol de Albanraz, Europe's westernmost lighthouse and still an important bastion of ships to America, is just one step away. Beyond the lighthouse, there really is no more, just the endless blue and the ocean.
****
With its lush green hills, wild cliffs, flowers, lakes, waterfalls and many pristine places, Flores, the farthest away of the Azores, is truly the earthly heaven for nature lovers. Unfortunately, I was only able to enjoy the hospitality of Europe's Garden of Eden for a few days. But voluntarily I went on to the next island that was guaranteed to be the beacon of the lost world. Why would I say that? In my next blog post about the island of Corvo I show you this world. Keeping up with me in exploring the Azores.
Follow my travel stories and adventures on Instagram and Facebook