São Jorge cheese is worldwide famous and undoubtedly adds to the name of the place. But there are plenty of things to be seen here besides cheeses. For example, you can see here more than 70 fajã, that could be described as a lava terrace at the junction of the ocean and steep cliffs. São Jorge is the home of Europe's only coffee plantation. And here every resident owns three cows resulting in 1,800 tons of cheese a year. I show you how I've seen the slimiest island of the Azores.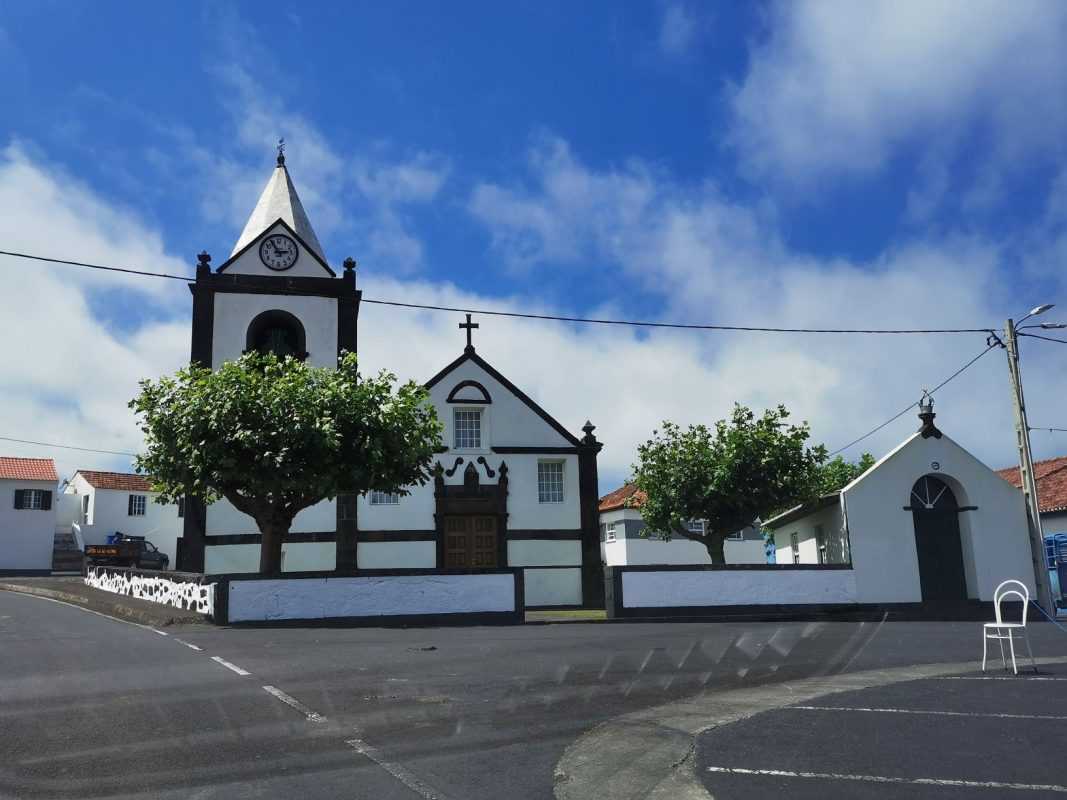 The slimy marker comes from the shape of the island: it's only 5 km wide and 53 km long. A high mountain stretches along its entire length, with the highest point being Pico da Esperança of 1053 m. The rocky character is typical on the island and it is not possible to reach all parts of all São Jorge by car. In the north, steep lava walls of 3-400 meters "fall" into the ocean and form a flat plateau, a terrace (fajã) above the water, where small fishing villages can be found (Fajã do Ouvidor, Fajã das Pontas, Fajã da Ribeira da Areia).
In the southern part of the island, there are "only" 100-meter cliffs and several flat terraced parts, so most of the islanders (9,500 people) live in settlements on the south coast (Fajã das Velas, Fajã da Queimada, Fajã Grande, Fajã da Calheta, Fajã dos Vimes). In winter, when the weather is bad, people often move from north to south, where every family usually has a cottage. Whatever the purpose of your trip to the island of São Jorge, you can't really miss the fajãs, because they are almost everywhere.  But let's turn back a little bit because it's important how we got to the island.
The easiest way to get to São Jorge is by ferry and the fastest way is Sata Airlines. I would put the simple word in quotation marks because even though the distance between the three islands (Faial, Pico, São Jorge) is small and it would be logical that you can travel in all directions within the triangle, the ferry does not think so. In fact, there is no direct flight from Horta (you can read my blog post here) to Velas or vice versa. Pico is a transfer island in any case and if that is not enough, the ferry ends up in two different cities (Madalena, São Roque di Pico).
So, if you're going to the Azores, I suggest you read the helpful advice I wrote here because there's going to be some weirdness and not just in terms of transportation. After the 40 km distance was successfully completed by the ferry in 3.5 hours, we began our trip from the port of Velas.
Cities and atmospheres
São Jorge is not famous for its built surroundings and museums, although there are undoubtedly some remarkable places on the island. Arriving in Velas, the island's capital, a beautiful arch greets the arrivals at the port. Relatively few tourists come here compared to other Azores Islands, so you can't really find restaurants and cafes outside the capital.
Speaking of food, Azores don't really excel in hospitality (I wrote about this in useful tips here), and though I haven't expected, however I ate the finest food here in Velas during the whole trip. In the main square, next to the Church of Igreja Matriz de Velas, I can recommend the restaurant simply called Restaurante Açor, with a warm heart. For dinner, we even had a cute four-legged buddy.
Leaving the capital through the high mountain slope, the road leads through beautiful landscapes on the south coast of the island. Unfortunately, there are very few places to step aside and stare by car (not like on Flores, about which I wrote here). Though we had luck while heading to Manadas, where we have found a hobbit-like rest stop, which could probably be a wine cellar or something like that.
Fajã
There are very squiggly and steep roads, that lead to coastal and fishing villages. I thought many times if I should go downhill by car or not. In Manadas, let's put aside this fear and take a look at the Santa Barbara church next to the beach. Although it's not written much in the guide books but the church is very impressive. Golden altar and golden decorations with the original 18th-century azulejo tiles look amazing together with the beautiful wood-beamed (cedar) ceilings. I haven't thought this tiny church has so much beauty, so it's worth a look.
Continuing our journey to Fajã dos Vimes I understand that you don't immediately get excited when you read this. But if I add Europe's only one coffee plantation can be found here, a caffeine addict like me is definitely cheering up. For some reason, when I read about the coffee plantation, I thought it might be a farm in a huge area. Arriving at Café Nunes, we found ourselves in front of a family home and wondered if the navigation has led me in the right place.
Fortunately, yes. The coffee plantation is very small and it's rather a family business but it's nice visiting São Jorge. Although there is no proof, but probably the coffee beans came from Brazil to the Azores in the 18th century. The altitude of 300 meters above sea level, the rich volcanic soil, the pleasant climate (25 degrees in summer and 12 degrees in winter) and the associated high humidity are a favorable combination for coffee production.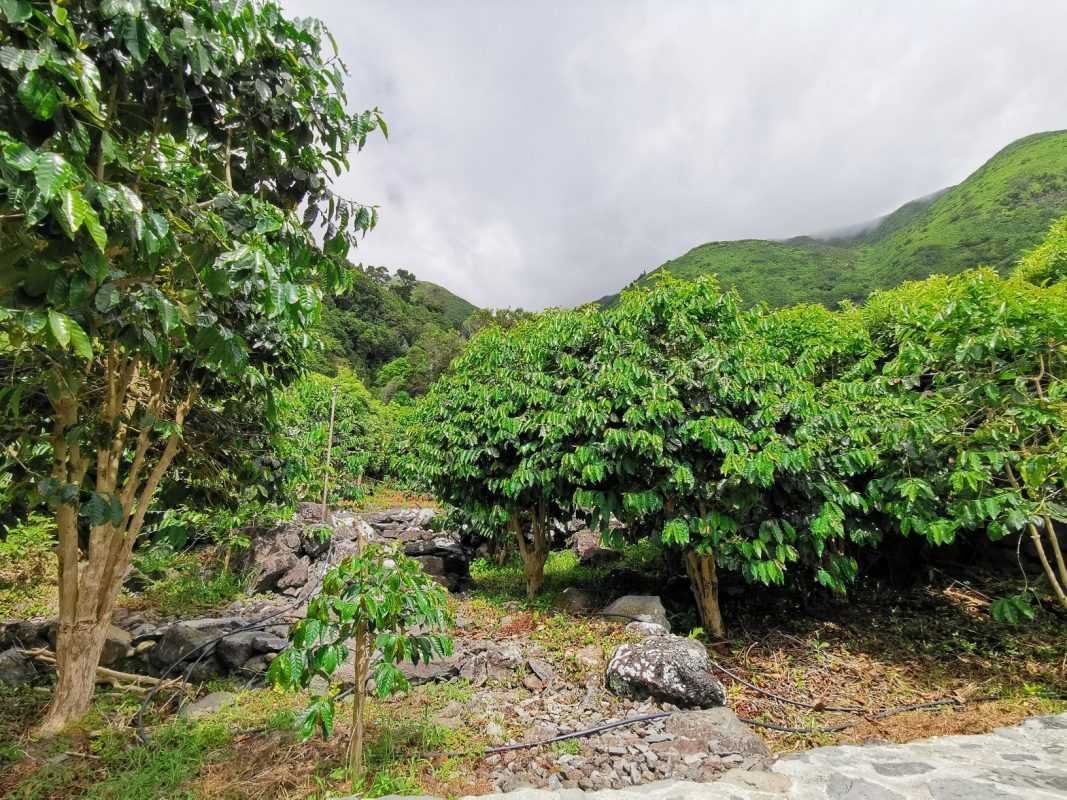 The Nunes family bought land in Fajã dos Vimes 40 years ago and now they produce 350 kg of Arabica coffee a year with 700 coffee trees (rather bushes) in the yard behind their house. The owner's wife makes beautiful carpets, which can also be viewed in the exhibition hall of the family home. It's a small manufactory, it's not mass production, but it shows the popularity of the place, that in the summer season up to 200 cups of espresso coffee per day are sold (which is very tasty, but also buffalo-strong). The wall of Nunes Café is covered with paper money from all over the world. We left our signature in the form of a 500 HUF note, so if you're at Café Nunes, you can find it on the wall.
After we finished our coffee and bought some more as souvenirs we headed north, to be exact, to Fajã do Ouvidor. It's a popular place for the locals, as a resort and spa in one place. The settlement is easily accessible, and you can get out of the car and take a bath almost immediately in the rock pool fenced off from the ocean.
However, there is a hidden part of the place, which can only be reached in a 5-8 minute walk. A road between steep and sharp lava blocks leads for a while and then ends abruptly at a pond. The lake that many people bathed in when we were there is a remarkable sight, but you should not stop here. Let's climb over the rocks and keep going, as, beyond the rocks, the real miracle, Poça Simão Dias waits for you.
The ocean, the black lava rock and the blue water gathered in natural pools offer amazing views. There was no time for bathing this time, but it was still a huge visual experience of visiting this place. We only had 1 day on São Jorge, which I regret in hindsight, but if you have more time here, it is worth going hiking along the PR1 route. The hydrangea-lined path leads all the way to the ocean, where you can also take a dip in the Caldeira do Santo Cristo volcanic crater and sun-heated ocean water.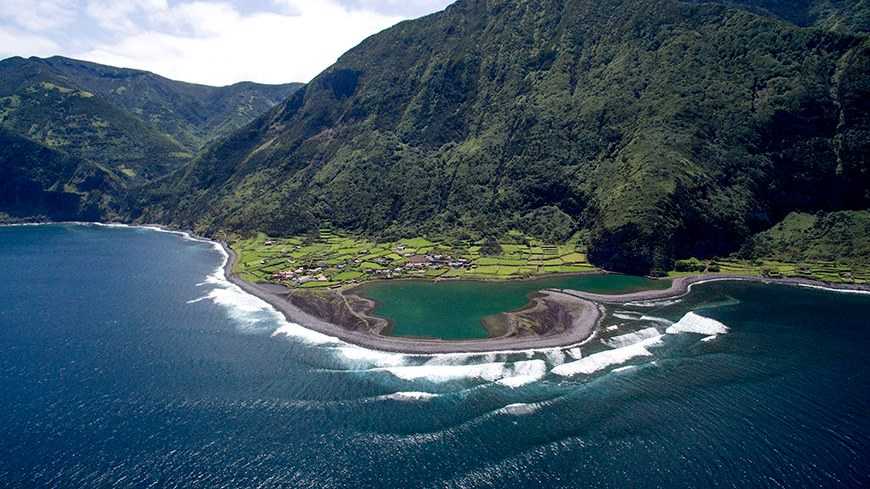 Cows and fish
On the island of São Jorge, in addition to the attractions mentioned above, what is most striking is the multitude of cows. There are three cows for each islander here, so as a result of a quick multiplication, we're talking about a minimum of 30,000 cows.
You can meet cows everywhere along the way, and even the lucky ones can catch them while bathing at Ponta do Topo during the summer. A lot of cows produce a lot of milk that makes cheese so famous. To be exact, the 1800 tonnes already mentioned in the introduction, with which cheese from the Azores became one of Portugal's main export goods.
Cheese production in São Jorge has a history of more than 500 years and the cheese produced here is protected by DOP (protected geographical indication). Based on a strict set of criteria (e.g. processing process, fat content, moisture content), they are matured for a minimum of 3 months in nearly 800 plants, so that in the end they become rolls of 8-12 kg to the delight of tourists and locals.
There are many places where you can taste cheese directly from the farmers, who are very kind and guest-friendly, or in a factory (e.g. Beira, Ribeira Seca), from where you cannot leave empty-handed. My advice is to choose mature cheese (8-48 months old) as souvenirs, as they can survive the journey home better than their younger counterparts.
Another traditional product of São Jorge is canned tuna, which is made in Calheta and can be found in many places, including cheese factory and grocery stores. Santa Catarina canned food is characterized not only by its wide and natural flavour (spices such as garlic and parsley are produced locally), but also by ethical fishing, which even Greenpeace has classified as 100% environmentally sustainable. The method of tuna fishing in the Azores is to angle with a stick and a catch out only one tuna.
Unlike the large-scale fishing net solution, which unfortunately also hooks dolphins and larger marine mammals, in many cases causing their deaths. So if you want to take home a handmade and ethical gift from the island of São Jorge, you can choose canned tuna in addition to cheese, because it is made sustainably and ethically.
***
Unfortunately, my adventures in São Jorgen have ended. I would have liked to stay on this picturesque island more to explore its mountainous, pristine parts and waterfalls, but I had to reach the ferry and go on. However, there is no reason to be sad, as an exciting place like Pico, the volcano island, is coming up. In my next blog post, I will guide you to the black island, so if you feel like, keeping up with me.
Follow my travel stories and adventures on Instagram and Facebook