The Azores are also referred to as the European Hawaiian Islands, not coincidentally. True, I had not yet reached the latter place, but I looked forward to the journey with great anticipation and planning, with which my bucket-list dream came true. The self-organized tour, which included six-island of the nine exceeded all my expectations. Although I've been to Iceland and rainforests, I've never experienced so much beauty anywhere in one place: volcano, mountains, flowers, vast green forests and almost untouched surroundings. I organized the entire trip by myself, and since many of you were curious about the details, I share with you all the information that can help you if you want to travel to the Azores. Actually, I planned this blog post later, but there were so many questions in every forum that before I started with the actual travel reports, I thought we should confer on practical details in the first round.
Map, geography
The Azores belong to Portugal: the islands are located 1500 km from Lisbon and 3900 km from North America in the middle of the Atlantic Ocean. This is practically Europe's westernmost point if Greenland is not counted. The nine islands of volcanic origin are divided into three groups: Flores and Corvo to the west, Faial, Pico, São Jorge, Graciosa and Terceira to the east, and São Miguel and Santa Maria to the east.
The name of the latter island may be familiar with the discovery of Christopher Columbus and America. One of his ships was called Santa Maria, which ended up on the island on his way home in 1492. Most of the tourists visiting here are the largest, traveling to the islands of São Miguel only, we visited six islands in two weeks: Flores, Corvo, Faial, Pico, São Jorge and São Miguel. I'm not saying it wasn't a busy schedule, I could have spent three or four weeks here, but I travel alongside full-time work and I have limited days off.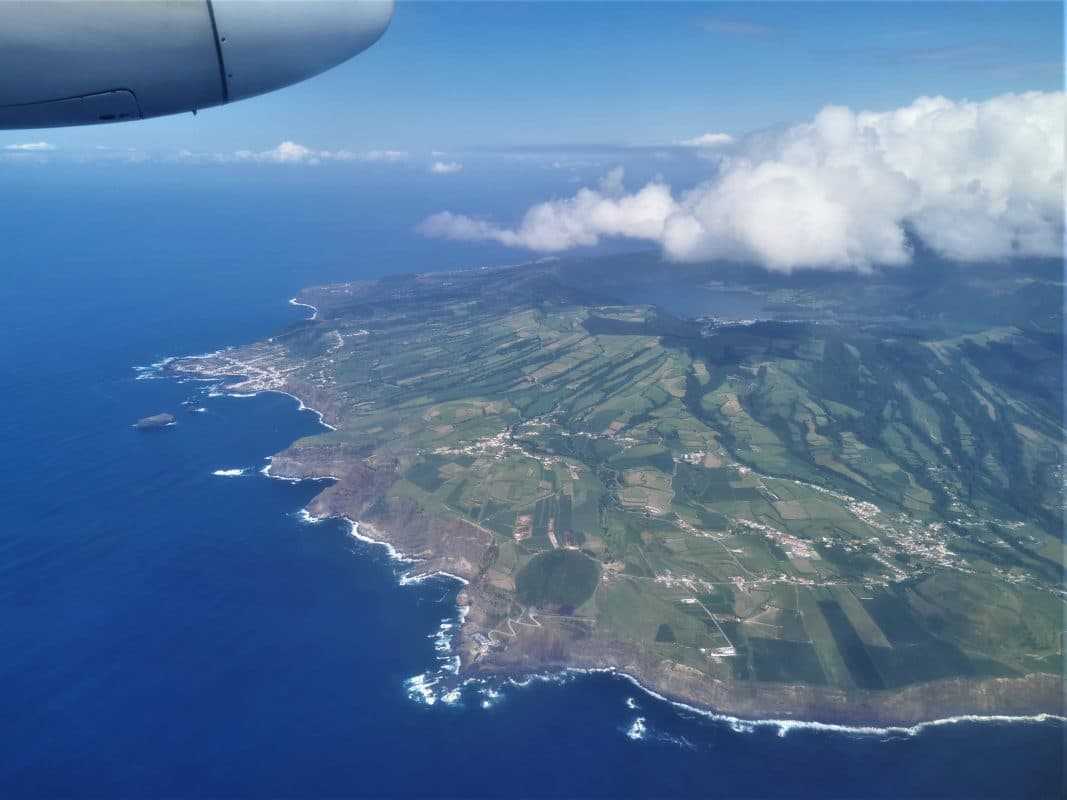 The islands have an area of 2,346 km2 and are inhabited by about 260,000 people. Some have only 400 people on the island, while 60% of the population settled on the island of São Miguel. Over the past centuries, there have been several waves of emigration from the Azores due to strong volcanic eruptions. Most people moved to Brazil, the United States, India, Angola and Cape Verde. They are also called 'ultramar' in Portuguese, which refers to their overseas character.
A little history
The motto of the Azores: Die free rather than conquered in peace. The desire for freedom always dominated the islands. They were completely uninhabited until the 1450s, due to their geographical isolation, continuous volcanic activity and topography (with many rocks, there is little farmland). To this day, very few settlements are located on the northern coasts, and the population is more concentrated on the southern coast.
The first inhabitants started populating the island of Terceira during the colonial wave of the 1470s thanks to the Flemish Wilhelm Van der Haegen. The Azores are strategically well located between Europe and America. For a reason, many military objects have been built here in recent centuries, and French, Spanish and Portuguese have been at war for it. Since 1640, the Azores have been part of Portugal and since 1976 they enjoy autonomy so as Madeira.
Time zone, weather
It is -2 hours less than in Budapest CET time. The sun rises at 7:00 a.m. and sets at 8:30 p.m. so there are many bright hours. There's a weather forecast, but it's not worth much. Due to the various terrain conditions, it can actually rain within a 20 km radius, there can be fog and the sun can shine at the same time. The islands have a subtropical climate, which means that the temperature is pleasant all year round. It ranges from 10-12 degrees in winter and between 22 and 28 degrees in summer.
Rain can fall at any time, the driest month is June – July – August, by which time it is worth planning the trip. Hydrangea begin to bloom in June and last until September. Each island has a different microclimate, so the good weather on one island doesn't guarantee that it won't rain on the other. So it's worth checking out the weather break down. I usually use Accuweather, but the experience is that it's good to have rain ponchos and several types of clothes in your backpack.
Currency, prices
The official currency is the euro and credit cards are accepted in almost every place. The price level is quite high due to the isolation of the islands. I assume it's because there is a lot to bring in here and there is no really industrial and productive activity on the islands (apart from cattle farming, cheese production, fishing and vineyards). A liter of petrol is around €1.5, coffee is €1, a soft drink is €1.5-€2, a pint of beer is €3, a glass of wine starts at €6-€8, meat and fish dishes start at €14. These are average restaurant prices. Let's say there aren't many menu selections but I will talk about food later.
Language, telecommunications
In addition to Portuguese, most people can also speak English and we had no language problems along the way. The attractions are pretty well signed everywhere but Google Maps or Wazze can be also good solutions. There is no roaming fee, we are within Europe, it is safe to use the phone and internet. There is a signal in most places (except for volcanoes and calderas), but data connectivity and 4G are stuttering in the mountainous countryside. Because of this, there were minor navigational problems, but given that distances are not huge, this was not a real problem that we missed some roads. There is a detailed, free tourist map of each island, which serves you well in planning your daily schedule.

Accommodations
We booked Airbnb accommodations everywhere for about €30 per person/night for which we were given fully equipped, cooking-suitable apartments and the entire apartment was ours. If you're going to the more remote island of Flores, book your travel well in advance because there aren't many available apartments to go to. There are also nice hotels if someone wants to request breakfast or half board, although I don't think the latter really makes sense unless someone is traveling to relax and is a moderately active hiker.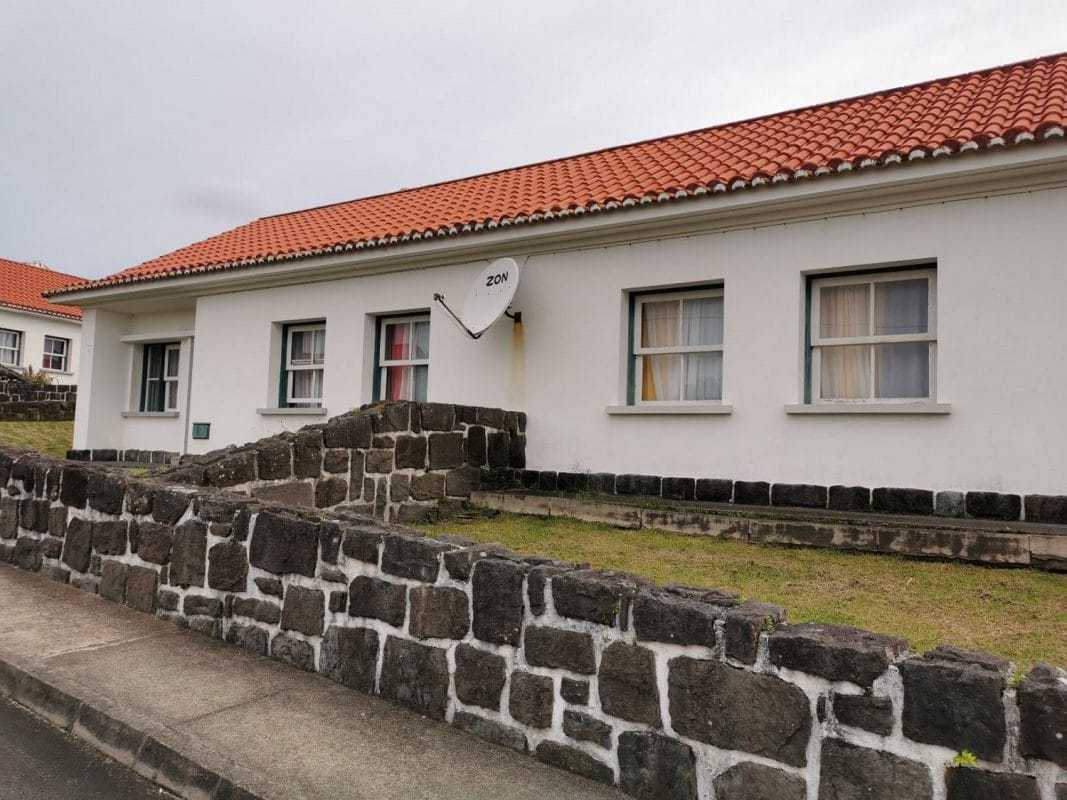 Our daily routine was the following. We usually went from early morning to late at night and because of the ferries we often returned back with the last flight. We were in Lajes das Flores on the island of Flores, which is about 25 minutes from the airport and I think it's cozier than Santa Cruz. We explored the central islands from the city of Horta on a rallye tour while sleeping a few nights on the main island of Ponta Delgada.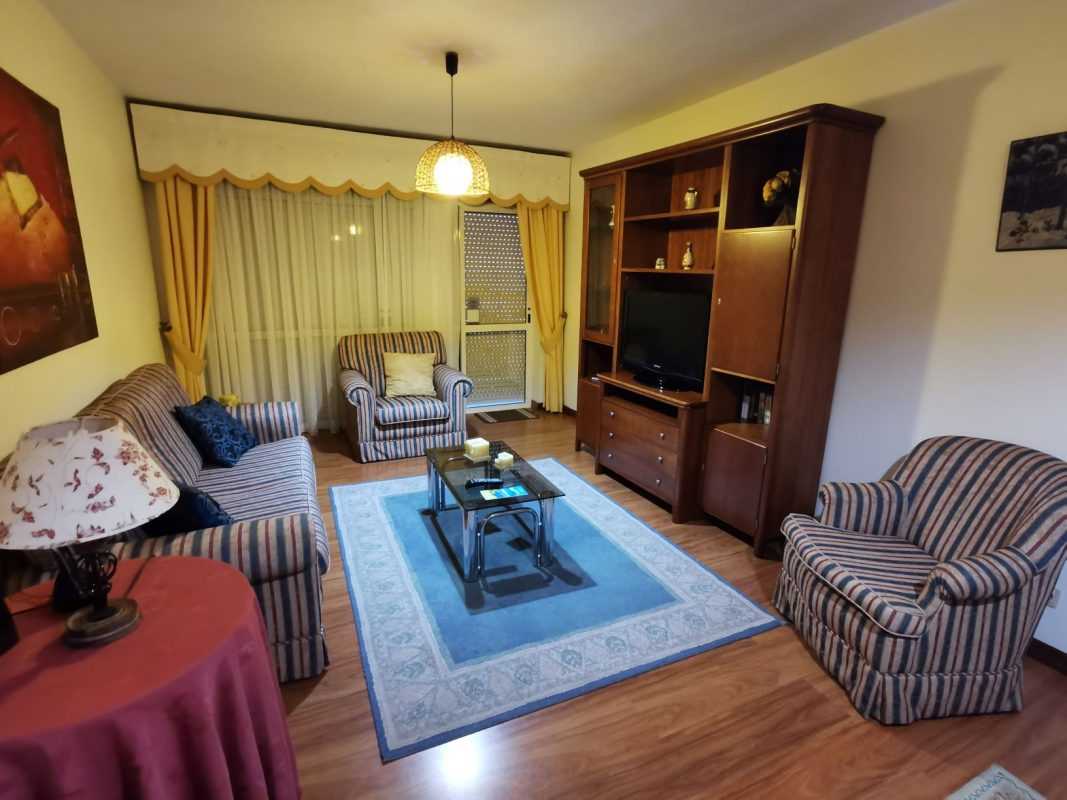 Traveling there
We took Portuguese airline TAP to Lisbon, from where local SATA Airlines flights took us to the Azores islands. If you do not go directly from Budapest to the Azores, but spend a few days in the Portuguese capital, interrupting the trip, then it is worth taking the opportunity to request a free flight between the domestic islands. It's only available if there are no more than 24 hours between the two flights. We were unable to stay in Lisbon as we had limited days off, but I contacted the airline on a trial basis. Within a few days, they replied and confirmed that the free ticket option does not work in the event of departure from Budapest, only if the mainland, i.e. Portugal, is the starting station.
You can request a free flight from SATA Airlines between two islands by clicking here if you leave from Lisbon. Important information for planning your flight from Budapest: if São Miguel and Ponta Delgada are not the final destinations, but the capital of another island, they will not be able to check-in your luggage all the way through Budapest. We flew to Flores from Budapest, the farthest island. Even though we were checked-in for the whole time and had our boarding passes, the suitcases had to be taken out on the way and needed to be rechecked again. This was not a problem on the way there, but on the way back we almost missed the connection in Lisbon.
In Ponta Delgada, they could not repeatedly check-on our luggage until Budapest, so we had to take it out in Lisbon. By the time we got to the terminal, we only had an hour to complete the luggage check-out, security check and rush to the gate, which I don't wish anyone. We reached the connection, but due to the package misery pay close attention to the transfer times.
Itinerary
It is worth planning the time with some puffer because although the distances are not big on the islands, visiting the attractions in many cases depend on the weather. We had a place (e.g. Lagoa Negra and Comprida) where we went back for the third time before we managed to catch sunshine once to see the place in all its glory. The round trip took a day off due to the many flights, so our itinerary was as follows:
Flores Island: 2 days to tour, but if you have 3 days, it's perfect
Corvo Island: 1 day to tour Faial Island: convenient to walk around in 2-3 days, and then you climbed Capelinhos volcano and walked around the 8km caldera
Pico Island: 2 days, especially if you plan to climb the volcano you must sleep there one night
Sao Jorge Island: 1 day to visit the main attractions was enough, but if you want to go hiking, take 2 days
Sao Miguel Island: you can stay here for 1 full week as a solo trip, but it's worth spending here a few days too. We were four days on this island, which enough for everything, but that's due to the rain pouring in for 2 days.
Ponta Delgadaban nem tudták Budapestig ismételten becsekkolni a csomagot, ki kellett vennünk Lisszabonban. Mire kiértünk a terminálba már csak 1 óránk volt csak abszolválni a csomagkivételt, becsekkolást, biztonsági ellenőrzést és kapuhoz való rohanást, amit nem kívánok senkinek. Elértük a csatlakozást, de a csomag mizéria miatt az átszállási időkre figyeljetek nagyon oda.
Car rental
There is no public transport within the islands, so taxi, ferry, scooter or organized tour bus is the accessible options. If you go to several islands and you rent a car, it is worth choosing the same car rental, because then you only need to put down only once the 1200€ deposit. What is important is that only credit cards are accepted for the deposit, which is blocked for the duration of the loan. After you return the car, depending on the bank, it takes about 1 week to be credited and can be "spent" again.
Renting a car from the same car rental company matters because of the credit card limit. If you want to see every island, and even if you're going to rallye tour and taking the car with you, there's still a minimum of 4 rentals, which is a deposit of 1.5 million HUF. We rented the car from Ilha Verde for about €45 per car per day, which is a local rental company and is present on all nine islands. It is recommended to choose a local company (e.g. Ilha Verde, Azorean Way, Way2Azores) and book directly with them, not through an intermediary company (e.g. Rentalcars). Most car rental companies have their own shop at the airport and are usually only open when there are planes and landing passengers. It is worth looking at the fine print because in the event of a flight delay of 60 minutes, a reservation can be canceled. What is worth paying attention to is that the refueling practice is not common: it is given somewhere full of tanks, elsewhere only with half. My advice, especially for smaller islands, is to book the car well in advance together with the flight numbers if you want to rent a small car on a good price.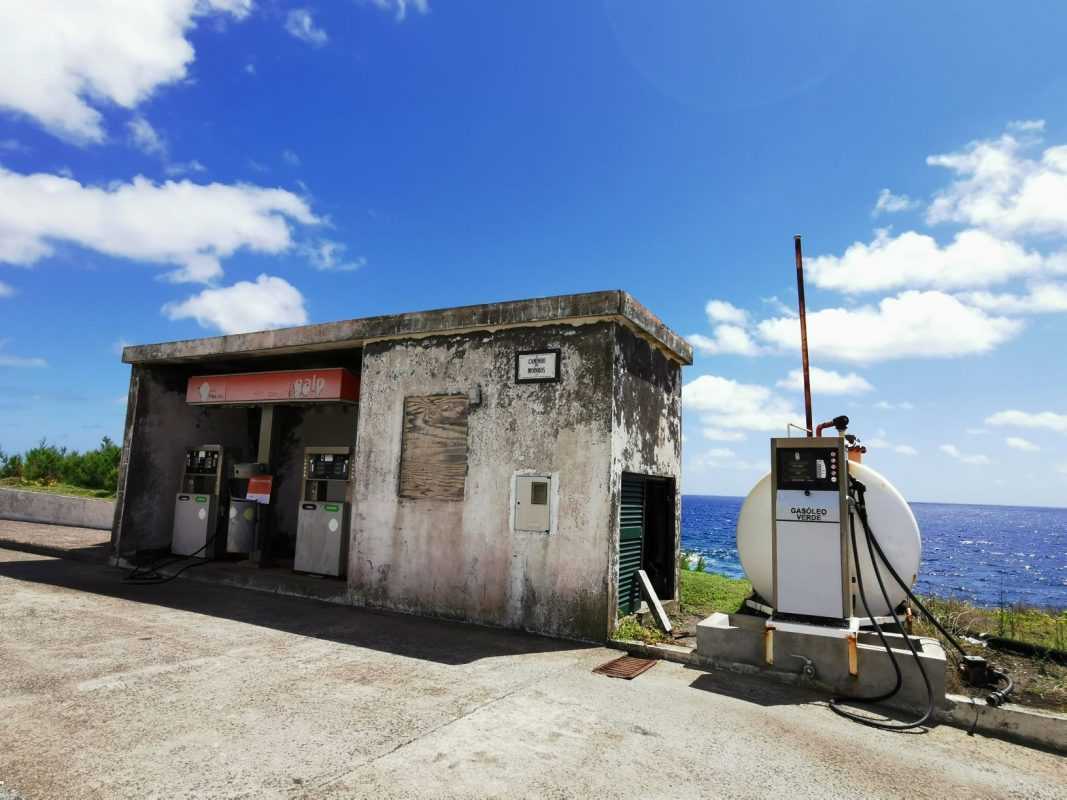 Distance, roads
Most of the islands are quite small, the largest ones are the same big as Lake Balaton. The roads are in perfect condition but there are a lot of climbs and serpentine. When renting a car, take care of bringing a car with an impeccable braking system and a gearbox (manual is the common one). Once we brought back a car to the rental shop as its brake pads were worn out.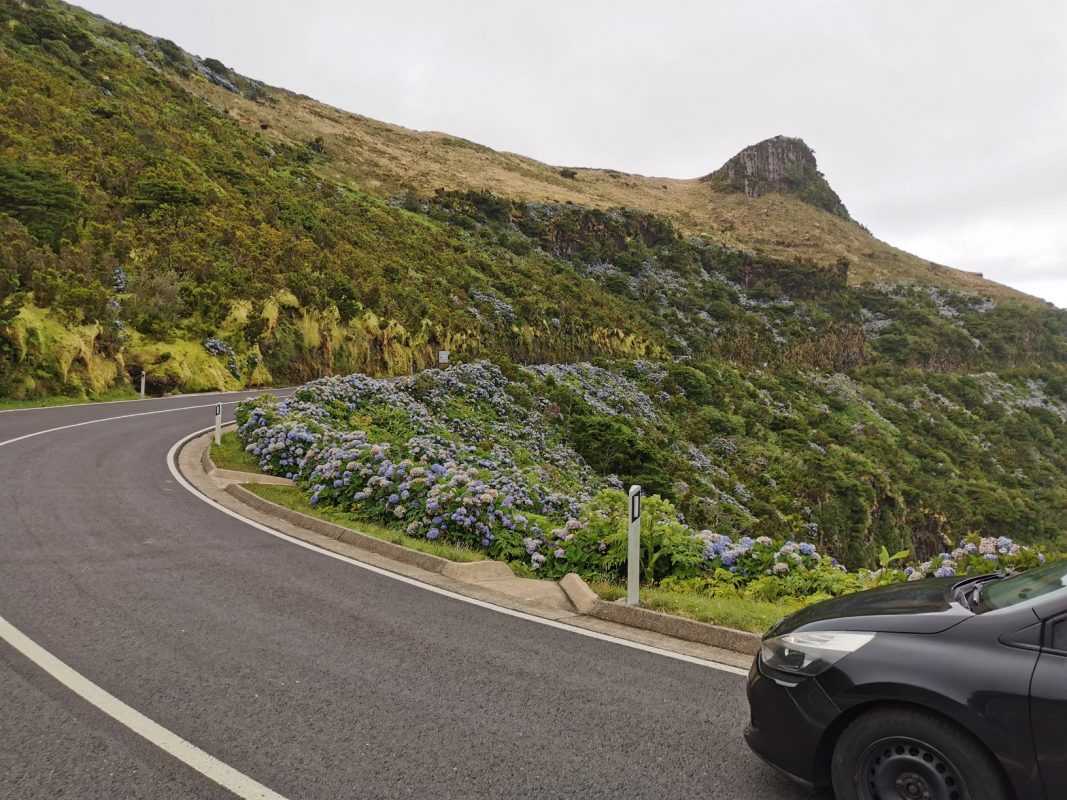 There is no motorway outside the island of São Miguel, but let's say you can't go fast anyway. Parking is only payable for in Ponta Delgada and only in the downtown. On the islands, roads are usually narrow in many places and there is a rock face instead of a railing. In cities, there is a high shoulder on both sides of the road, so take care of that while parking.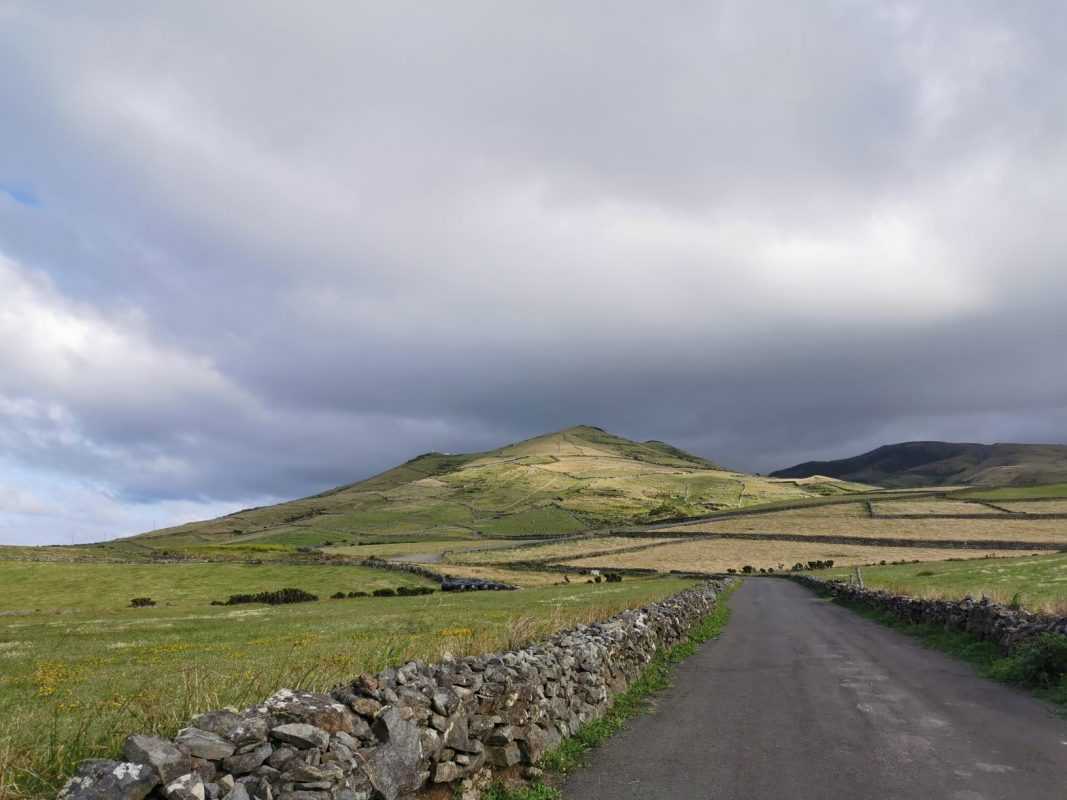 Domestic flights within the islands
Within the Azores, the fastest way to get from A to B is with small SATA Airlines. Planes have usually 30-50 seats and there is no onboard service in the price (€60-€80). But I haven't really met an onboard service either, flights are very short (about 40 minutes). Event there are many connecting flights that get off and on from one island to another to pick up passengers.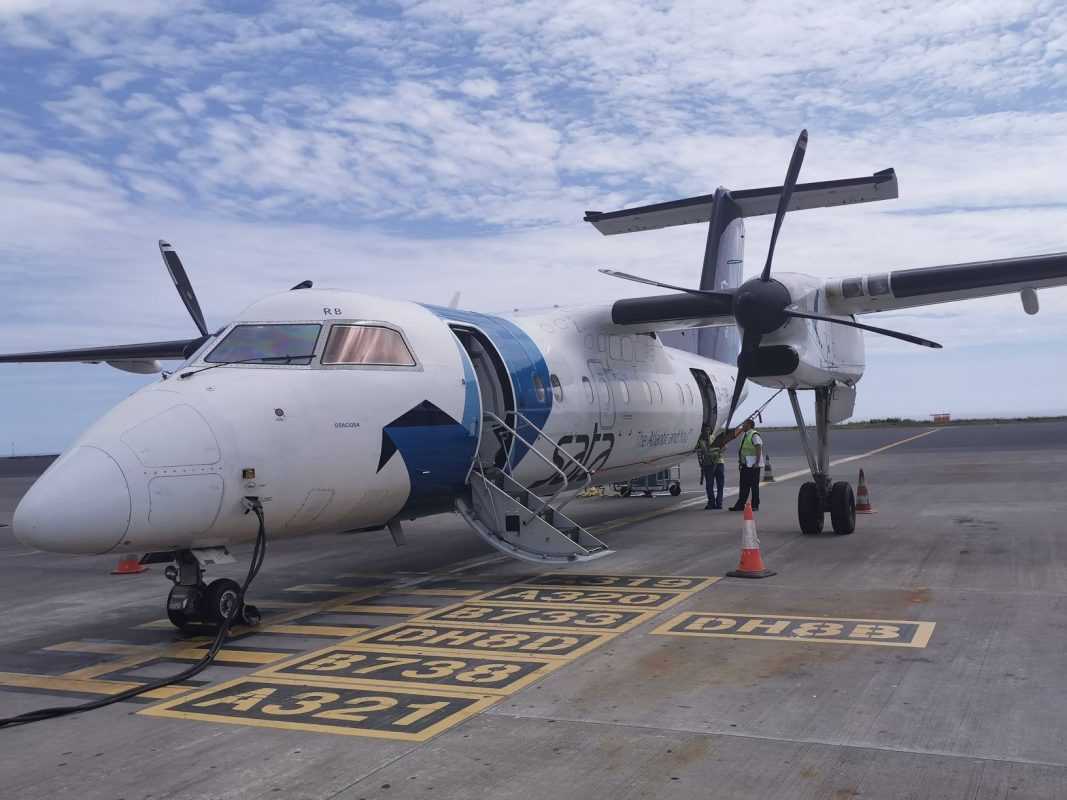 In the event of an interrupted journey, you must leave the plane and take the luggage with you to the terminal building and then be returned to the plane. Not all islands have daily flights to the more remote ones, so it's a good idea to check the schedule on the Sata website in advance, and it's also a good idea to be prepared for delays of 20-30 minutes. We weren't time-bound, but in case of connections, let's leave more time for the transfer. The airports are very small, there is hardly a souvenir or duty-free shop. Accordingly, for internal flights it is enough to go to the airport and check in 1.5 hours before departure.
Ferrying between islands
Ferry services are operated by Atlanticoline between the islands, and the company's website provides advanced information on timetables.  In many cases, the weather can interfere – especially during rainy and windy periods – and ferries may not start. Between Flores and Corvo, instead of a ferry, there's a 30-person rubber boat, which isn't a ferry, but it's called a ferry. It takes you to the smallest of the Azores for €35 (return ticket), and even though there's a protective tarp on the boat, you'll get wet, so be prepared for that. Advice: don't sit on the side with the protective tarp on it, because that's where the water mostly come in.
Among the other islands, there is a regular passenger ferry, which is also suitable for moving cars. These ferries are quite small, they can accommodate up to 8-10 cars. If you want to transfer your car with you e.g. between Faial – Pico – Sao Jorge islands for a one-day trip, you have to book a place on the Atlanticoline side well in advance. We wanted to bring our car to Sao Jorge and there were no car places many days in advance. Luckily, we were able to rent a car locally from Velas for €72 for 1 day. We lived in Horta and went from there to Pico island (return ticket €7.2/person + €36 for the car) and Sao Jorge (return ticket was €31/person). The ferries are very well equipped, they have a smaller snack bar and you can't feel the ocean surge either.

Suggested clothing
Although the temperature is pleasant also in summer, the weather in higher places can be quite cool and wet, so it is worth preparing with a variety of clothes. Windbreaker, rain poncho (forget the umbrella due to the wind), hiking sandals, hiking shoes are definitely recommended. If you plan longer hiking or climbing, you can also put your high boots in. By the way, shorts, cotton t-shirts, thin long sleeves (it also protects against sunburn), and zip-down hiking pants are also handy, because the weather is still cool in the morning.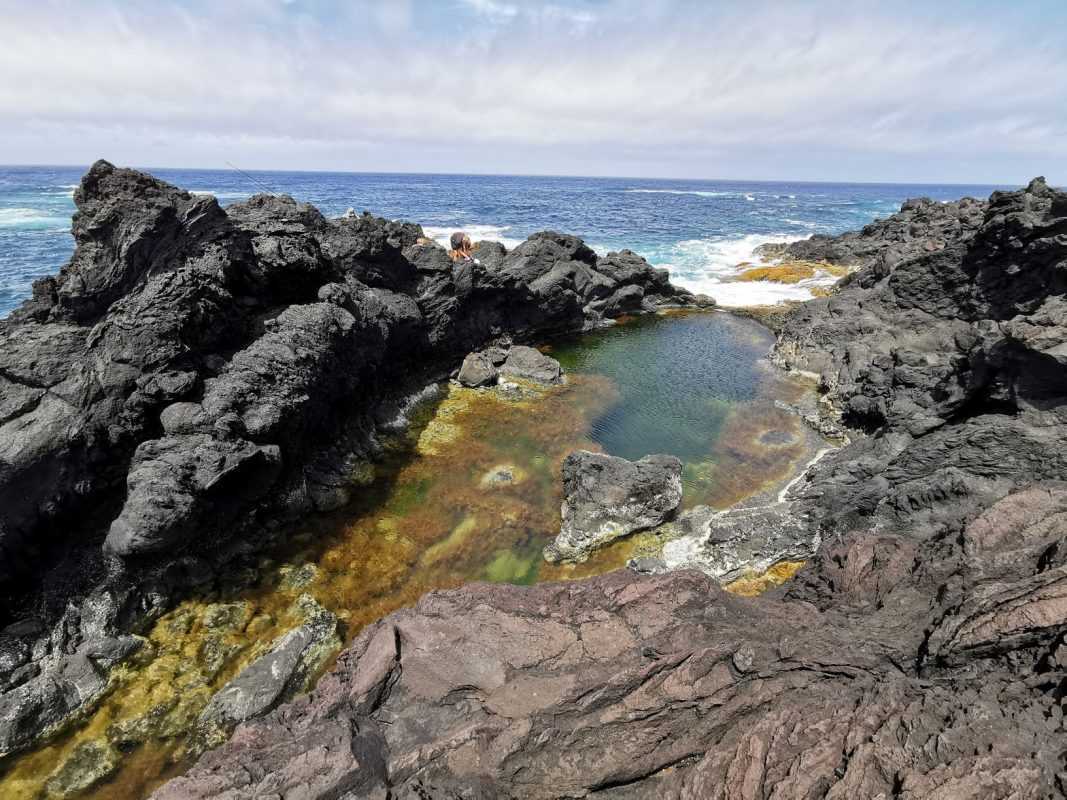 In the Atlantic Ocean, you can only bathe in dedicated places, called natural pools, where you are protected from large waves and the water is also more pleasant in temperature. There are several thermal baths on the island of Sao Miguel, which I will write about separately in the blog post. It is worth taking slippers and a swimsuit with you, which you do not regret in case it lost its color in baths with a high mineral content.  In the Azores, the saying is that practicality should be considered rather than aesthetics. Although there are cosy sit-outs and restaurants in one or two cities (e.g. Horta, Ponta Delgada), sequined clothes are not suggested here.
Food
I never thought I'd starve in the Azores. Joking aside, we've been able to eat hot food every day, which is due to the opening hours of restaurants. Although the weather does not justify it, because there is no heatwave, but as part of Portugal, a siesta is held in the afternoon on the Azores too. Restaurants, even the few they have, usually open at 12:00 and close at 2-3 p.m. There is no kitchen in the afternoon, you can order a drink if they are open at all and there is usually a kitchen again between 7 p.m. and 10 p.m. It's a personal experience if Google nominates a restaurant, it may not work either. On the island of Sao Jorge, for example, next to Simao Dias beach, the restaurant was not open during the high season, even when the beach was full of people.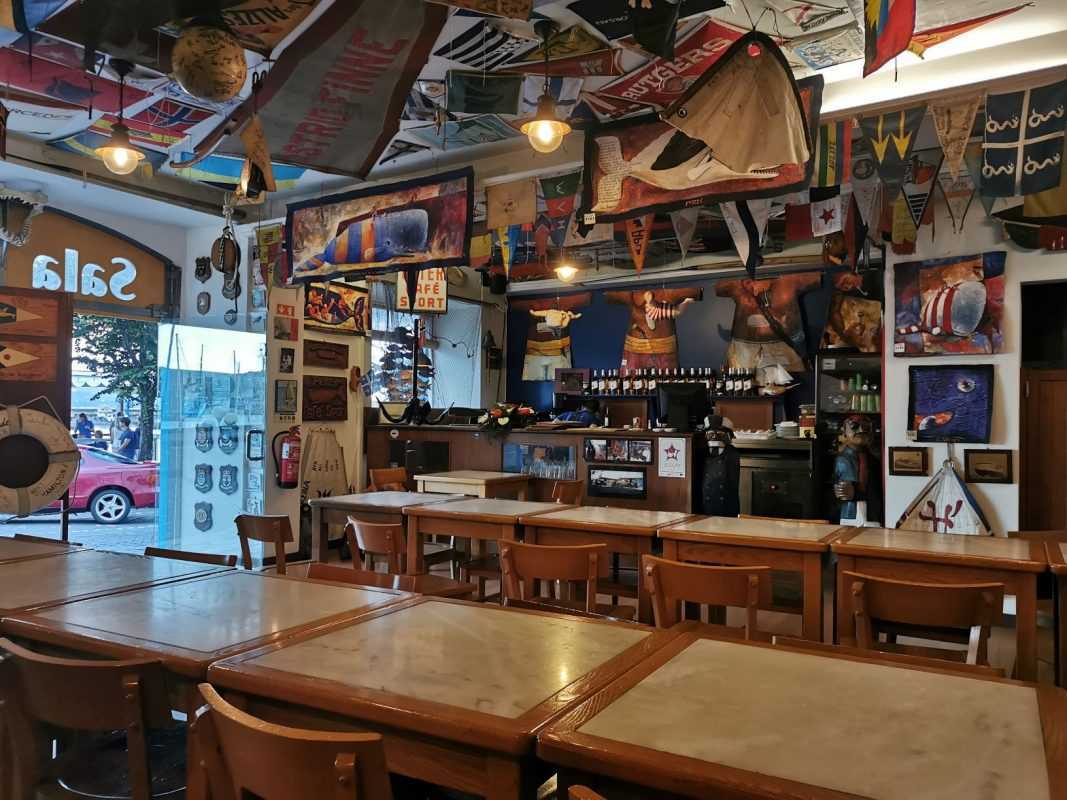 Larger restaurants are worth avoiding unless you want to wait 1 hour for food during the already limited opening hours, so we looked for smaller places. In the Azores, except for Ponta Delgada and Horta, there are only a few grocery stores, which are not open every day.  So if you find one, buy your breakfast for a day or two in advance. There are no street food or fast food restaurants here (except Ponta Delgada), so be prepared to wait everywhere as no one is in a hurry. If I have to mention one negative thing in the Azores, it is the lack of restaurants and the level of service. I'm neither picky nor demanding.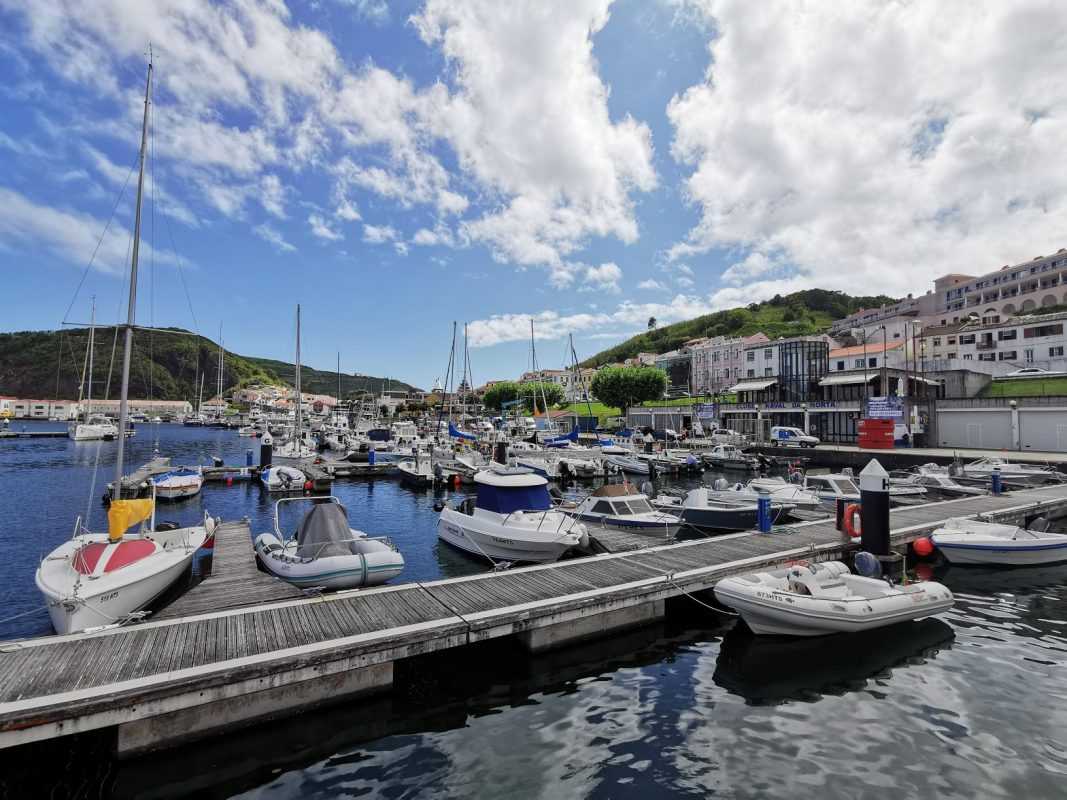 Main attractions
Most of the natural sites can be viewed free of charge, except baths, geysers, caves, museums, and the Pico volcano, which you need to prepare well in advance if you want to climb it. Unfortunately, there is quite a lack of travel descriptions from the Azores, including climbing the Pico volcano. Without registration, individual hiking is not allowed. You can't even go and walk up to a few hundred meters on the mountain.
If you go there by 5:00 a.m., you can start the 7-8 hour climb at 8:00 a.m., but groups have dedicated dates. If your aim of visiting the Azores is to climb the 2,351m-high Pico volcano then sleep one night on Pico Island and go there at dawn to register for the visitor center, which is on 1200m. You have to register in the center when you start and when you get back, even if you only want to spend an hour or two on the volcano side. For lava caves, all tour dates in Gruta das Torres are booked weeks in advance, so you need to register in advance by e-mail or phone, but you can pay locally.
For other attractions, it works that you buy tickets the day before and locally. The six-island and detailed descriptions are in separate entries, together with attractions and additional useful information. The first blog post from the islands of Flores and Corvo is coming soon. If I say these two islands are The Garden of Eden in Europe, I am not much mistaken. Keep coming with me to explore the Azores.
You can find my detailed blog posts about the islands as per Flores here, Corvo here, Pico here, São Jorge here, São Miguel here, Faial here.
Follow my travel stories and adventures on Instagram and Facebook