The most visited and famous place in the Azores is undoubtedly São Miguel. The island has unparalleled fauna and wildlife, all wrapped in an astonishing green environment. There is a reason why São Miguel wears the epithet Ilha Verde, or green island. But I'll add that quickly, too, it's a condition of a lot of rain too. If you only want to go to one place in the Azores, come here. Here you can get a taste of everything that makes the Azores such a specialty on the world map: grandiose waterfalls, huge lakes, hot geysers and baths, amazing ocean views, volcanic formations, unseen green teasers and, not least, the built, human environment. If I had to say a negative thing about São Miguel, it would be an imprint of the human hand. Since the 15th century, the paradise environment has been used by man and there are now 135,000 people living on the island the size of Lake Balaton.
In addition to the natural beauties, there are a lot of parceled land and tourists, which was a strong contrast to me after we visiting five less populated Azores before (I wrote about Flores here, Corvo here, Fail here, São Jorge here, and Pico here). Nevertheless, São Miguel is beautiful and still untouched compared to other destinations, where you marvel at the beauty of the surrounding environment and thank you for being part of this wonderland.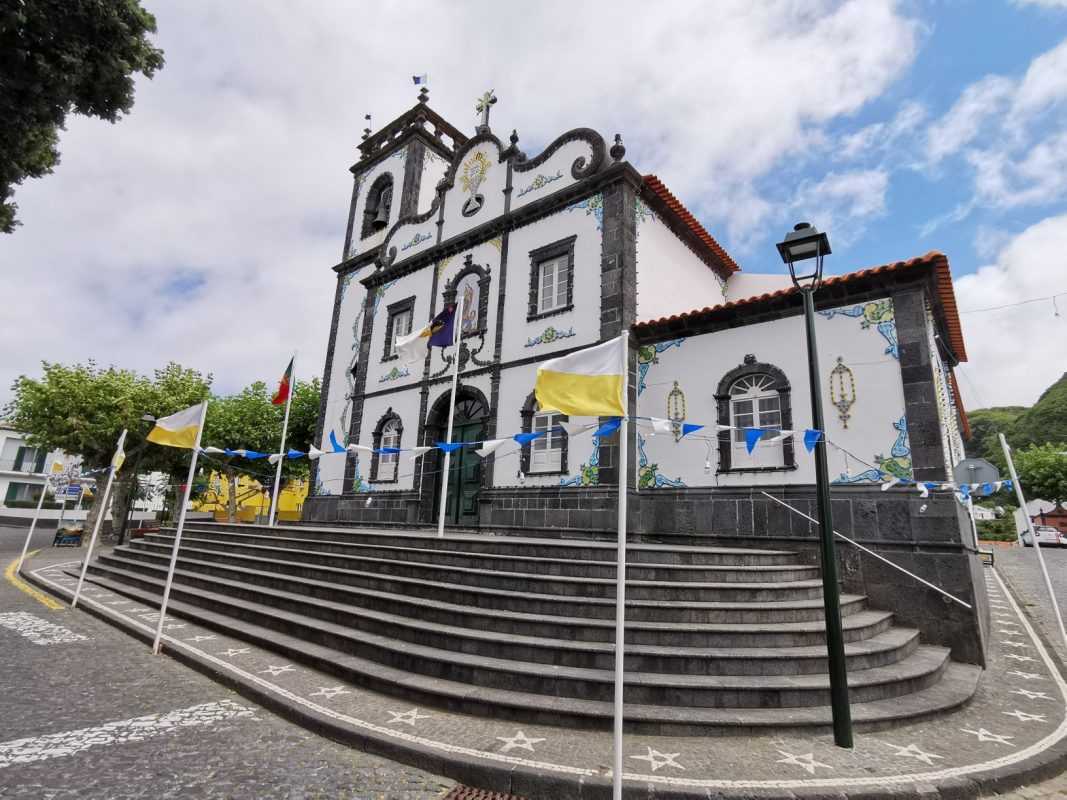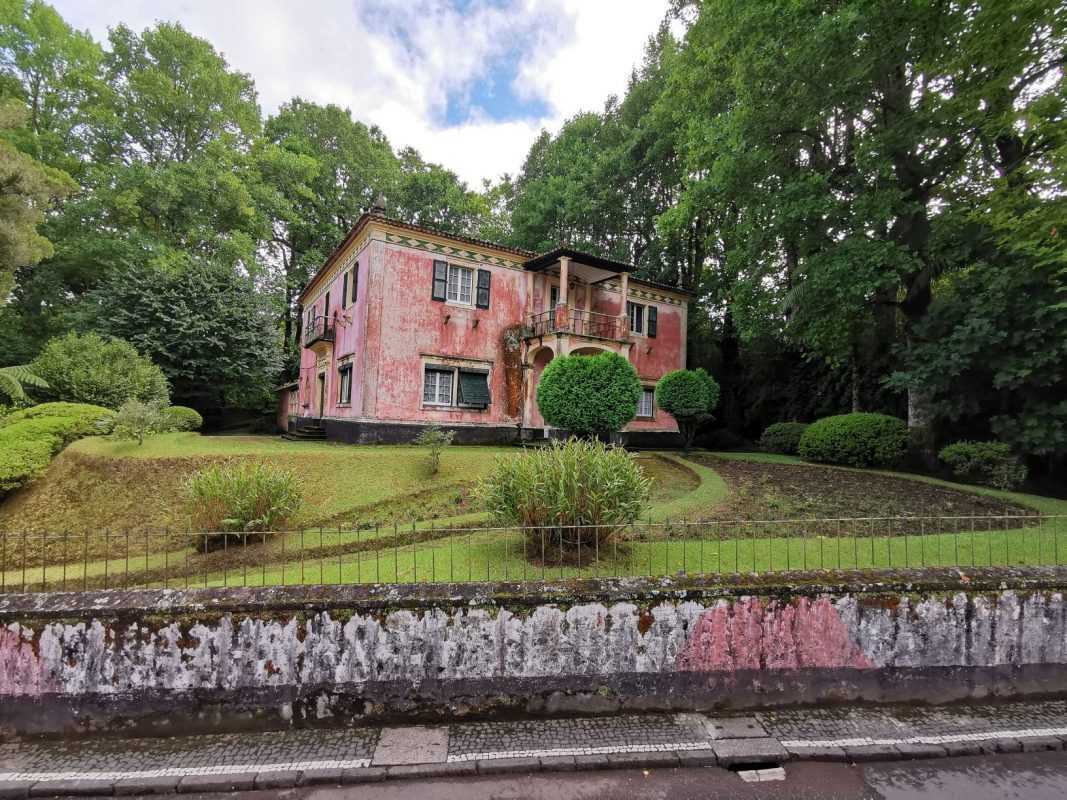 As the last stop in the Azores, we spent four days on the green island, where rain and fog stood in our way for two days, but it could not stop us from exploring the island. Next up you can read about the top 15 attractions from São Miguel, with at least the same number of attractions to be lined up for. But if you go through these, you won't be disappointed to leave the green island.
1. Sete Cidades
My first encounter with the twin lakes was from above from the SATA Airlines plane when we passed them on our way to Flores. At the time, I had no idea that this moment would be special from the point of view of being the first and last time I saw the lakes without a cloud. When we were there, the weather was not kind to us, and it brought the blue and green pair of lakes into a cloud of fog.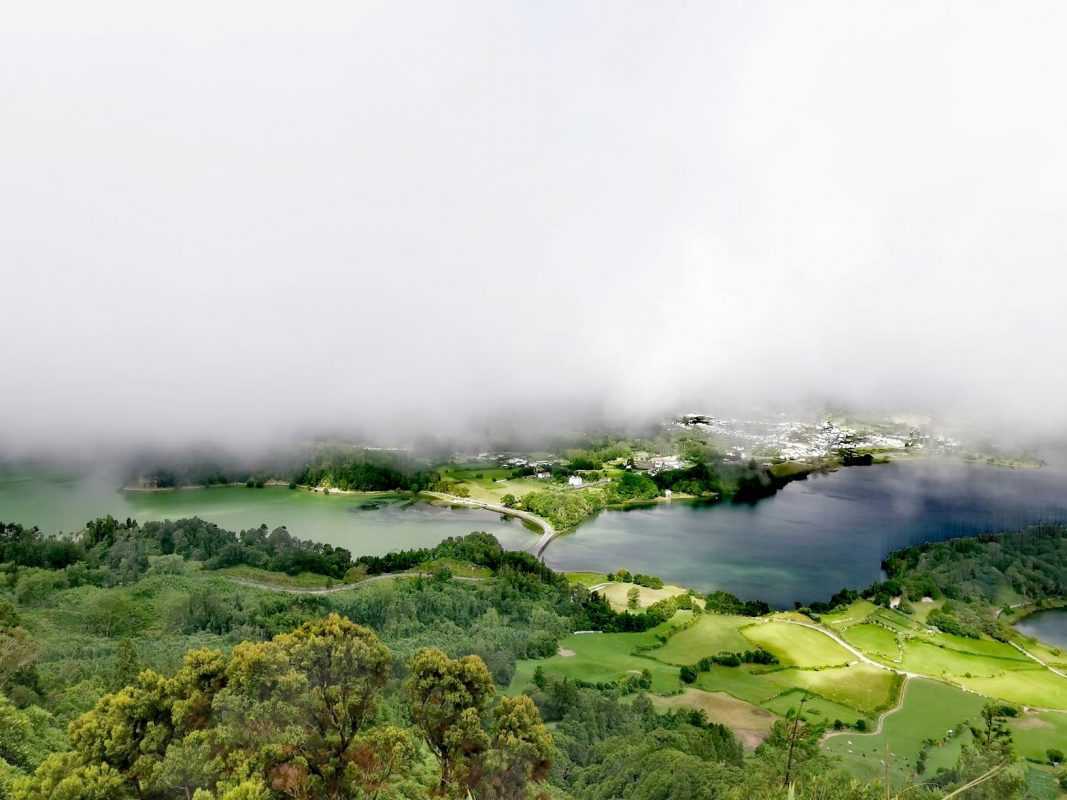 Did you know that its origins are surrounded by a legend? Once upon a time, there was a widower, grumpy king who lived only and exclusively for his daughter, Antilla. He wouldn't let anyone talk to the princess or even catch a glimpse of her. But princesses are just like breaking the rules, so it happened that Antilla snuck out of court one day and met a shepherd boy. Love loomed between them, and the boy, proving the seriousness of his intentions, asked the king to marry her in her. The king was adamant and did not give his daughter to anyone. And in their sorrows, they have just been crying and crying and their tears did not want to stop. Thus the green lake became the tears of the princess (Lagoa Azul), while the blue became the shepherd boy's (Lagoa Verde).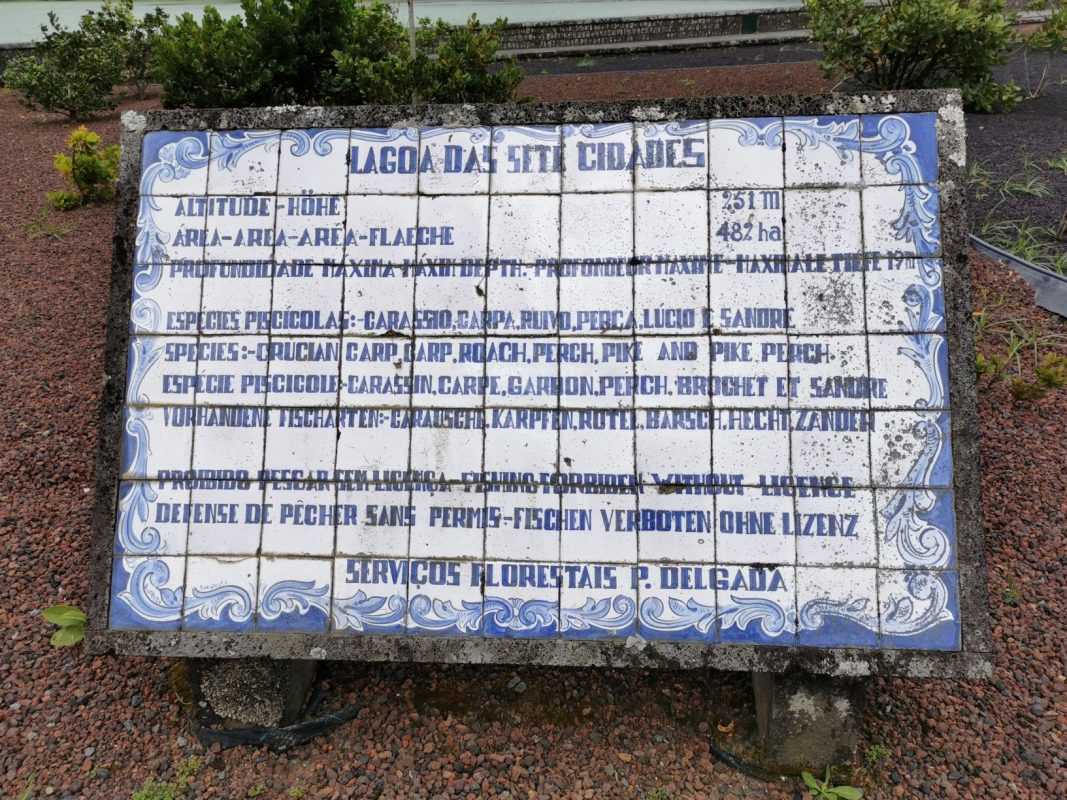 The two ecologically completely different lakes are connected by a bridge, wedged deep between volcanic mountains. The most important and largest pair of freshwater lakes in the area give you an amazing sight. I don't think there's anyone who wouldn't like this view. In case you can see them without fog because the weather is quite capricious in the Azores. However, the good news is that you can use a web camera (SpotAzores application) to track the weather at different points in São Miguel, so your daily program can be (re)planned.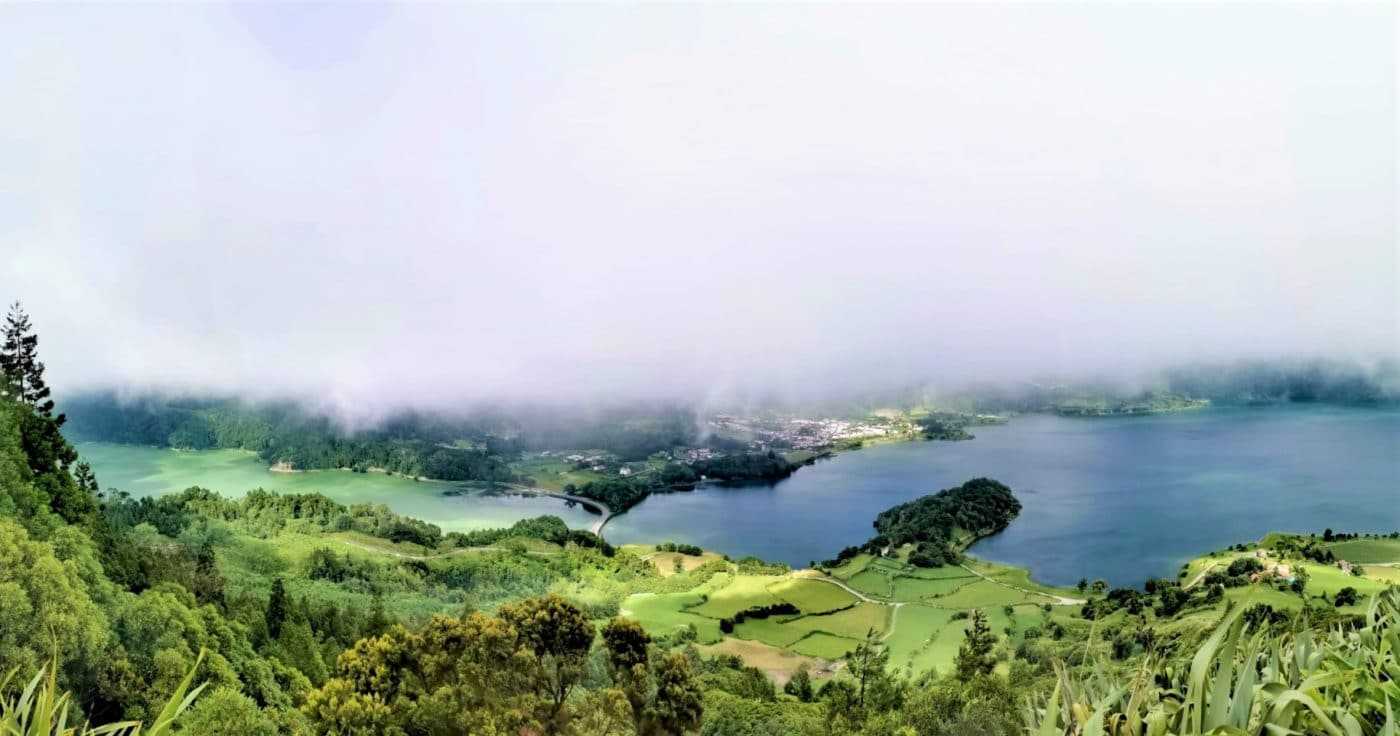 The most beautiful view of Sete Cidades is from the Boca do Inferno lookout, while further down it is also worth having a look from Miraduoro da Vista do Rei. For those who love urbex, Monte Palace, a 5-star hotel opened in 1989, is a real treat. It was closed 19 months after the opening due to the high maintenance costs and the building has been uninhabited ever since. I'm a pussy, I didn't even go in there, I just saw pictures of the building. Rumor has it that it was bought by Chinese investors and will soon restore soon. So if you're interested in abandoned places, then don't hesitate and look at it.
2.Hydrangea
Although flowers alone are not an independent attraction, in the Azores I have to say they are. São Miguel's weather is warmer than other islands. The 3-4 meter flower walls start blossoming in August and provide a truly impressive view along the way. When I saw them from the car, I almost pulled the steering wheel aside.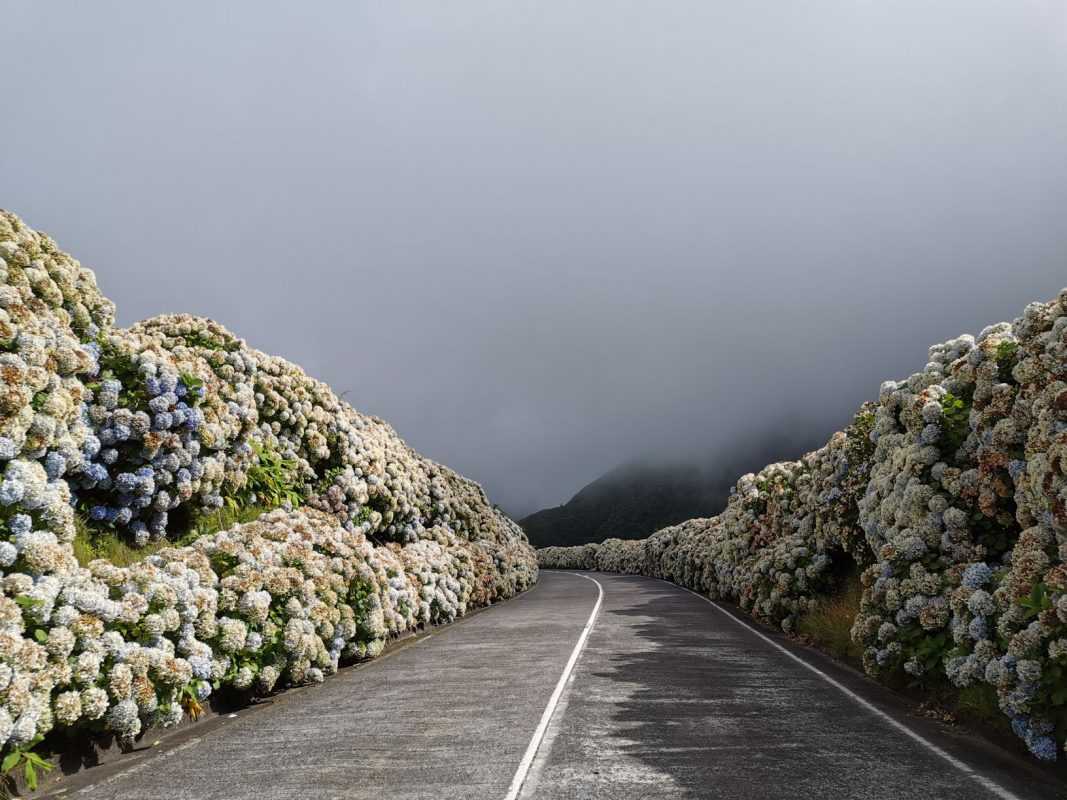 Which is a plus point beyond the walls that São Miguel has much bigger hydrangea spheres than other islands. They grow practically as big as one's head and, in addition to the usual blue, they also bloom in purple, pink and white. I saw the biggest-headed flowers next to the Sao Nicolau church, where this picture was taken.
3.Pineapple plant
São Miguel is the only place in the world where pineapples are grown in greenhouses. At least that's what they say on the Arruda plantation, and I believe them. The pineapple was added to the Azores in the 1850s as a substitute for oranges. Although the subtropical weather here is not conducive to the outdoor cultivation of pineapple, they have raised them in greenhouses with special technology. In the process, also called "fumo", leaves and branches are burned in old oil tanks, the thick smoke of which guarantees that the plants will bloom at the same time and, as a result, can be harvested at the same time. The 18-month crop cycle of pineapple sloughs is presented in different greenhouses, which are mostly reminiscent of kindergartens. Don't leave the plantation without drinking a sweet pineapple juice in the garden café.
4. Ribeira dos Caldeirões
One of the most beautiful and spectacular waterfalls is undoubtedly located in the Ribeira dos Caldeirões National Park. Located in the eastern part of the island and open for free, the park hides beautiful rapids. But mountain and hiking will also find their calculations here.
When we were there, a team of cavers and rock climbers tried to cross one of the waterfalls, accompanied by the audience's eyes and encouraging applause. One of the girls convinced herself for at least 10 minutes, together with the tour guide, whether to jump in the lake or not, but we didn't wait for the story to be over, so we left them. I have such a sneaky suspicion that she didn't jump. Let's say jumping into cold water from that height, all in front of enthusiastic fans, I'm sure it wouldn't be a win-win situation for me either, especially since I'm scared of heights.
In addition to Ribeira dos Caldeirões, there are several more waterfalls, large and small ones, such as Salto do Cabrito, Salto do Prego or Poco Azul, which are waterfalls fueled by beautiful blue lakes. Due to the limited time and bad weather conditions, we were unable to include them in the program, but for the sake of completeness, I also mention them for visiting.
5. Caldeira Velha
There are several natural heat sources on the island of São Miguel. One of the most beautiful for me was Caldeira Velha in the jungle. The place literally translates as an old boiler, referring to the energies working in the depths. The bath is due to the Fogo volcano, which lies 7-800 meters deep, where the temperature is approximately 220-250 degrees. Thanks to geothermal energies, the water coming out of the depths are not nearly as warm, although in the middle of the complex there is a 60-100 degree pool carefully fenced, which you obviously can't get into. On the other side, there are three stone pools (33-36 degrees) and a cooler pool ending in a waterfall in Caldeira Velha. The entrance to the bath is 8€ and the armband is supposed to entitle you to a 2-hour stay, but no one checked this in the pouring rain. The jungle environment is quite amazing, so relaxing and gawking in warm water.
6. Ponta Delgada
Let's also say a few words about the island's capital, Ponta Delgada, where there is not much to see, but most tourists are likely to stay in this place. Ponta Delgada is the largest city in the Azores, with 25,000 people living here. Most of the population moved to the United States in 1958 after the great earthquake, which commemorates the Monument to the Emigrants in the city's main square.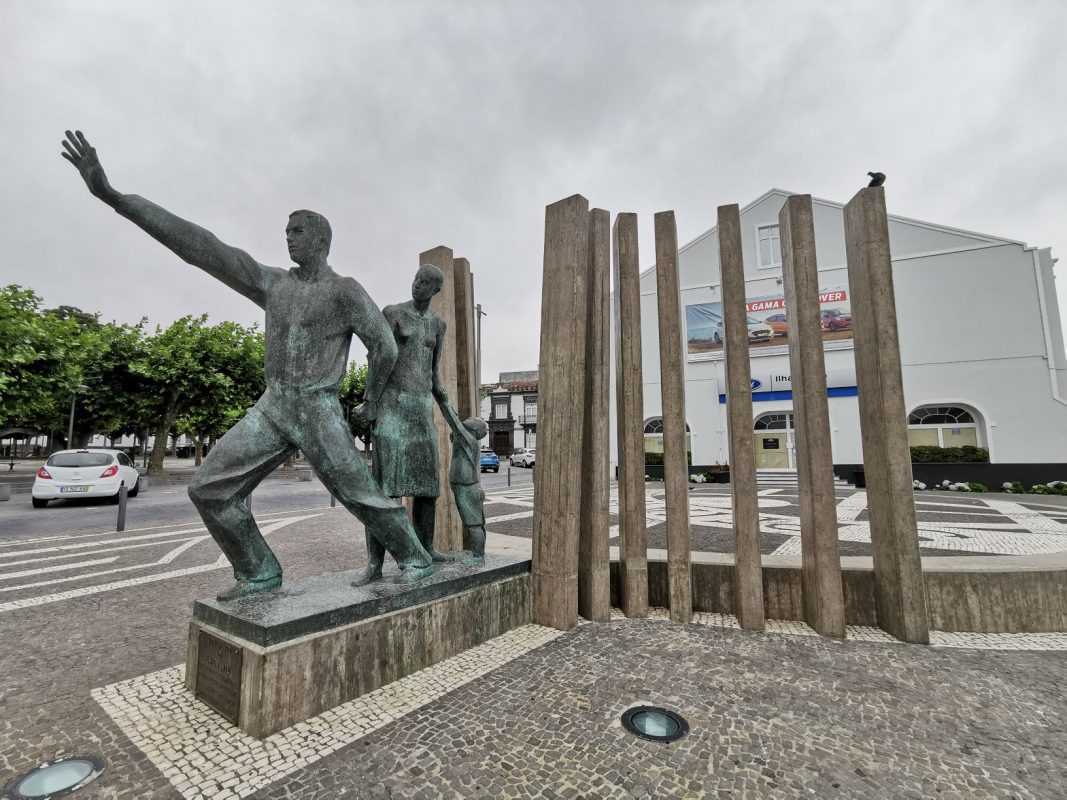 Next to the statue, you can find the fortress of São Bras, which was built in 1552 and was an important military-strategic object. The fortification is still a base for Portuguese shipping, as well as the home of a graphic and rich military history exhibition (€3 admission).
The São Sebastião Church is the most important church in Ponta Delgada and there are very nice wood carvings inside. Not far from it, in the charming cobbled streets, we stumble upon the town hall building, once home to a wealthy family of merchants and one of the masterpieces of Baroque architecture.
7. Gruta do Carvão
The guidebooks undeservedly don't write too much about this place, even though it is very nice and is definitely worth seeing. First of all, it's a lava cave, not stalactite, as many places erroneously refer to it. Gruta do Carvão is the largest volcanic underground corridor on the island of São Miguel. If I didn't get into a lava cave on the island of Pico (I wrote about it here), at least I managed to get here. The cave system is believed to be longer than the currently known 1650 meters, with some estimates that the total length maybe 5 km. Its specialty is that it has stalactite and stalagmite columns (hence the association), which is very rare in volcanic caves. Due to continuous volcano activity and re-forming lava, in lava caves, there is usually no time for such formations to develop.
However, in Gruta do Carvão you can find unique formations and traces of life green mosses too. For a long time, the inhabitants did not know that the depths of the earth hide in a cave, so apartment buildings and airport runways were built on it. Through construction works, they reached the cave and the light and air changed the existing ecosystem and began photosynthesis.
Today, there are no surface openings or skylights, and the site is coated with yellow light to prevent the overgrowth of microorganisms. That's why flash photography is not allowed inside. A small section of the cave can only be visited, but those who are more adventurous and do not suffer from claustrophobia can also take part in an advanced half-day cave tour. The entrance to the cave is €5 and must be registered here in advance because the number of visitor groups is limited.
8. Tea plantations
I wrote it in multiples, intentionally. Because there are two of them in the Azores. The oldest is Chá Gorreana, a family business and tea factory that has been operating without a break since 1883. The other tea plantation is Chá Porto Formoso, not far from it, which opened in 1920 and is closed on Sundays.
We originally wanted to come here, but we had no luck, so we ended up in Chá Gorreana crowded with tourists. I have already written about tea plantations in connection with a previous Sri Lankan trip  (read here), so I would not go into details about the Azores, but as a program, I recommend it with a warm heart. I couldn't even leave this place without green tea, which is my favorite drink in summer and winter too.
9. Oceanic pools
During the summer months, the Atlantic Ocean is a popular resort in all of the Azores and there are some places to bathe. If you're on the island of São Miguel, it's worth heading west and visiting the coasts of Mosterios and Ferraria, where you can cool off in the water gathered in natural pools.
Although Simão Dias can't be surpassed by any of them (I wrote about this here), but these beaches offer a very nice sight, where you can go down through a very steep and serpentine road. Only drive by a proper driving routine at the oceanfront of Ferraria, where a holiday complex has been given instead of solidified lava rock. If you are in the village, you can also take a detour to the Farol da Ferraria lighthouse, which can be visited on Wednesdays from 2 p.m. to 5 p.m.

10. Furnas and geysers
There are not many places you can see active geysers in the Azores, despite the volcanic nature of the archipelago. In the eastern part of São Miguel in Furnas, however, there is a very active fumarola field, which can be visited free of charge (you only have to pay for parking, but you can walk in from further ais). Puddles bubbling like pits of hell and emitting rotten eggs are carefully surrounded so that no one accidentally goes near them and obtains serious burns.
Here and there, moles rise, in which, of course, they are not moles, but the famous dish, Cozido das Furnas. This term covers everything from soup to meat (mainly pork and poultry) to cabbage and vegetables, but restaurants usually serve a dish similar to pork. In addition to the piles of land, a sign indicates which place the food in the hole belongs to and where to look for them in the nearby village.
We went to Águas Quentes because Tony's Restaurant didn't have a free table, and I didn't like the waiter's team anyway. In the end, we were better off here, because, for €12.50, we got an all you can eat buffet lunch that we licked all ten fingers afterward. Moreover, we did not taste a single dish, but we were able to choose from at least 20 types of Cozido das Furnas dishes and eat as much as we could fit into us. Furnas is also a charming village: it is worth exploring the houses after lunch, or if you are very full, you can also walk around lake Lagoa das Furnas next to the geysers, which is at least 8 km round. Or go to the city park, which is an extra attraction, and I'll show you why.
11. Terra Nostra Park
Located in the center of Furnas, Terra Nostra Park is a botanical garden and spa. The entrance fee is €8 and you can definitely spend 3-4 hours here without even being in every part of the park (you'll get a detailed map next to the ticket). With a diameter of 7 kilometers, the former volcano crater contains almost all the plants in the world, from Japanese koi carp to bamboos to magnolia gardens.

The most spectacular part of Terra Nostra is undoubtedly the yellow lake in the middle of the park, which can be bathed in 35-40 degrees of water. Advice, let's take swimsuits that we don't regret if they're ruined by the iron and mineral-rich water.
12. Poça da Dona Beija
If you are at Furnas, then another bath is worth mentioning next to Terra Nostra and the former Caldeira Velha. The Poça da Dona Beija is open 7 days a week (for €6) with four 39-degree pools and a cooler 28-degree pool. Sitting in warm water is always a good program, especially if you are in a nice environment and in this regard, Poça da Dona Beija leaves nothing to be done.
13. Vila Franca da Compo
The small town in the south of São Miguel is usually visited by people for two purposes. One is the Church of Nossa Senhora da Paz at the top of the hill. The other is Ilhéu da Vila island, where Red Bull dive jumping competitions have been held for years. Besides the competition, it's an amazing place to sunbathe in summertime. From Vila Franca da Compo you can get to the island by small boats during the summer, which unfortunately we did not have the opportunity to do due to the stormy weather. But from the terrace of the Senhora da Paz church, we saw the island above the hydrangea bushes, which, even in foggy weather, was quite impressive.
Just like the church itself, the foundations of which were put down in the 16th century in the place where the Virgin Mary once appeared to a shepherd boy. In addition to its unusual appearance, the 10-stair-station church played an important role in ancient times. The villages on the coast were often looted by pirates, and the inhabitants fled to this church at the top of the hill and prayed to the holy virgin for protection.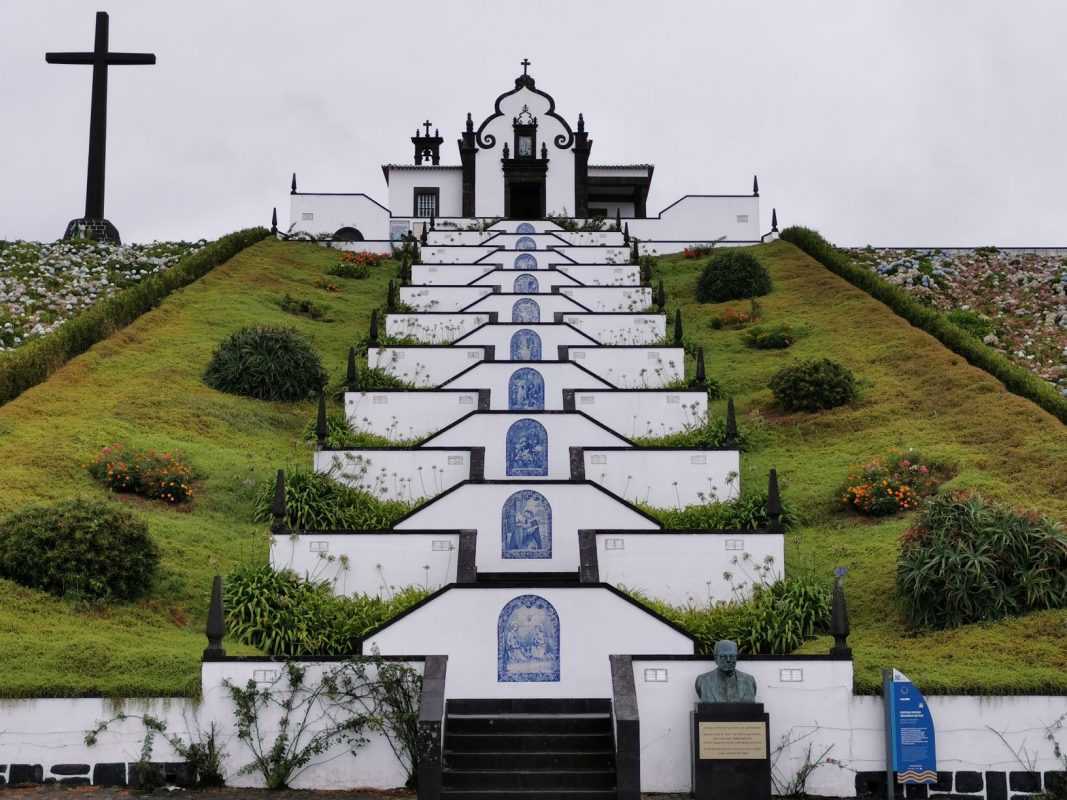 14. Lagoa do Fogo
In addition to Sete Cidades, there are several lakes on the island of São Miguel, which are worth visiting. The most famous is Lagoa do Fogo, which, true to its name, is shrouded in fog. So we couldn't see the mysterious crater acid, and in the rain, we didn't feel compelled to walk along the 11 km hiking trail, so I can't show you a picture of that, unfortunately.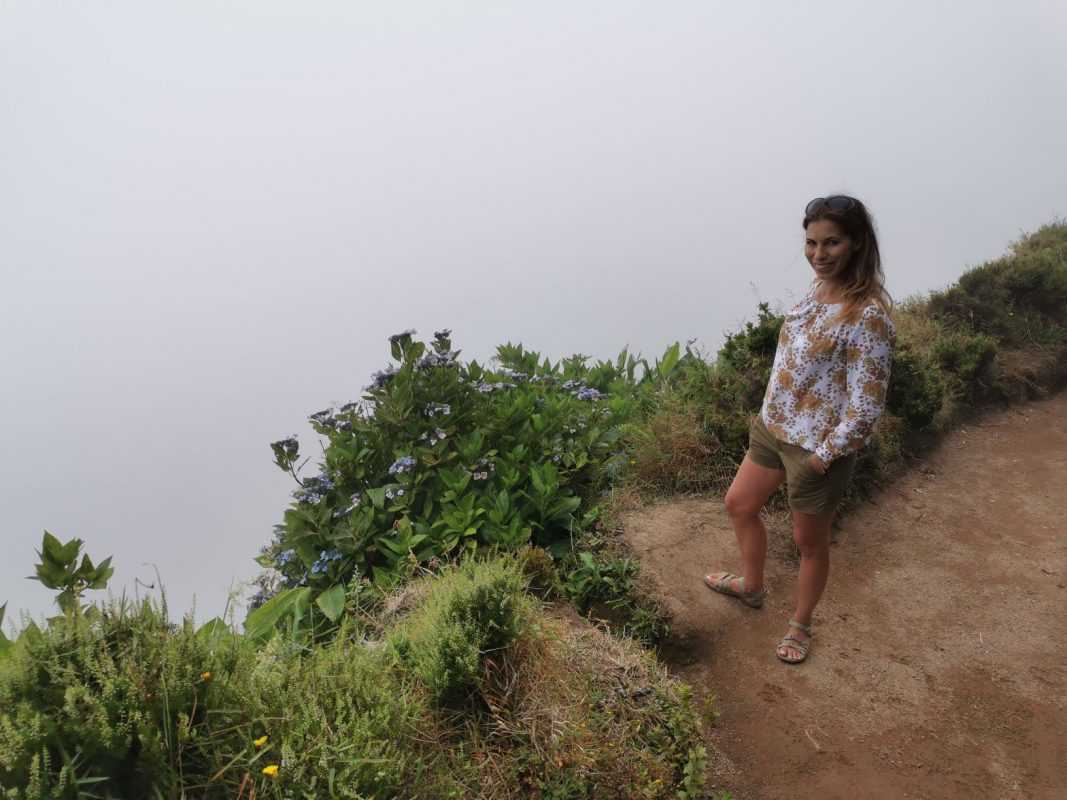 On the other side, we had the pleasure of several lakes, large and small one, besides Lagoa das Furnas. Lagoa do Congro is an emerald green little jewel box hidden deep in the trees, where we reached with a 15-minute walking tour, half in the rain. The environment is quite jungle-like, so hiking shoes are recommended. On São Miguel, by the way, you can find cozy lakes, which are often not marked by the tourist map (e.g. Lagoa das Empadadas). You see there's a heart shape in the lake behind me, right?
15. Riberia Grande 
In addition to pineapple and tea, if you want to buy something locally, I can recommend you visit the Mulher de Capote factory, where you can get an insight into the mysteries of liqueur making. At the plant, which is still in operation today and can be visited free of charge (not open on weekends!), you can taste liqueurs made with 100% natural ingredients and a family recipe, of which mandarin was my personal favorite. I didn't leave the plant without a nice bottle of liquors of course.
+1. Views
There are many lookout points on the island of São Miguel (e.g. Santa Iria, Ponta do Escavaldo lookout, Ponta do Arnel), which in fine weather offer amazing views. Where you see miraduoro sign along the way, let's stop and have look around. Let's spend some time at the moment, in the present, because travel is not only about what we look at, but also about what we're going through. In this regard, the Azores occupy a particular place in my heart. As part of the six-station island tour, I reached places where man and nature live together in perfect harmony and peace. In fact, it's nature and not the man who's in the lord here. I can only trust that it will stay that way.
Follow my travel stories and adventures on Instagram and Facebook