When the idea of one-day hiking in Slovakia raised up, I didn't hesitate much of it. Even if it was a 5:00 a.m. departure with a late-night return. On the one hand, I was very much looking for some foreign air after months of self-isolation at home, and on the other hand, even though it's Hungary's neighboring country, I have not been to many places in Slovakia. So I grabbed the opportunity and didn't stop until the village of Súľov. The small village not far from the city of Zsolna, was the starting point of the tour.
Szulyó Mountain is not really a popular hiking destination, as opposed to, let's say, Fatra and Tatras. Well, it is true that in terms of dimensions it is well below them (<1000 m), but in beauty, this rock region is well up for competition with the higher peaks of Carpathians.  After a 4.5-hour drive from Budapest, we arrived in the village of Súľov, where we parked the car and headed for the mountains. After a short driveway, we found ourselves in a valley, surrounded by pinpoint rocks from all directions.
They were quite amazing from the bottom, but do we really climb up these? Somehow it seemed like an impossible challenge, but I was reassured the road is leading up through the forest, we do not go up to the top of the needle-sharp cliffs like mountain goats. Speaking of needles and rocks, Szulyó mountain is a special geological formation.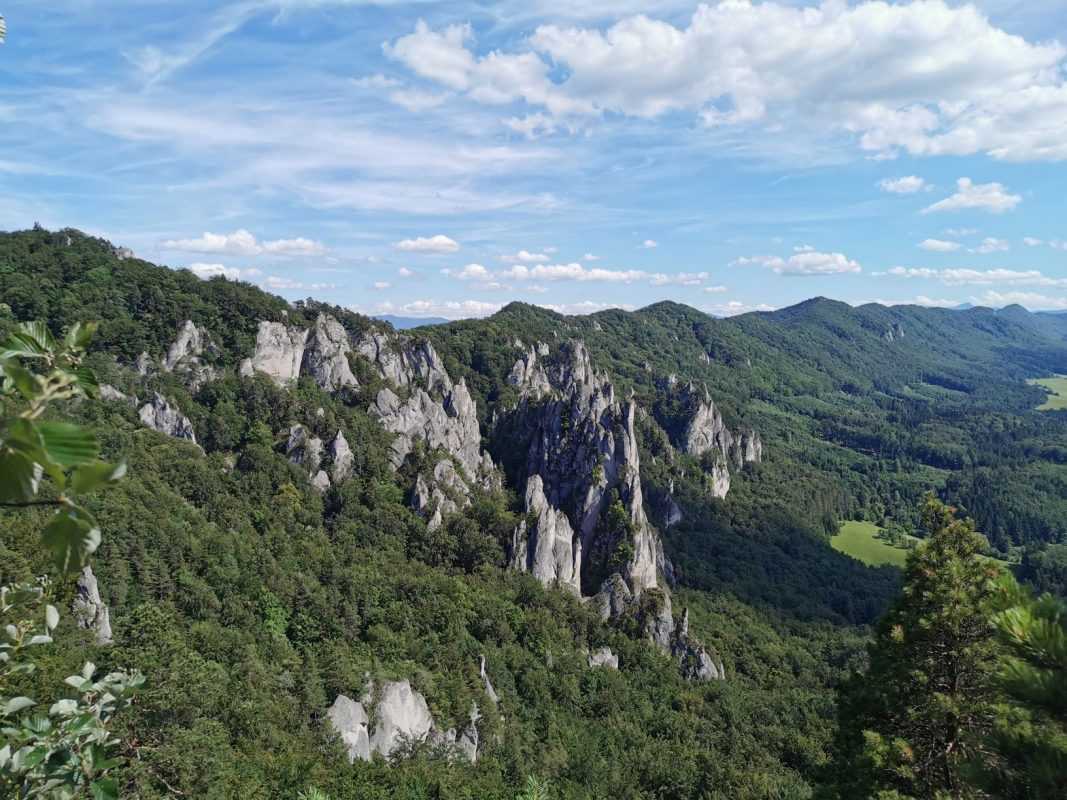 At the bottom of the prehistoric sea, there was once a layer of calcified conglomerate, which was 100 meters thick. As a result of tectonic movements, the layer was pushed high and so that the mountain was born. The sandstone rocks were constantly eroded by external forces, such as wind, water and frost, thus the lacy mountain that can be seen in Slovakia under the name Szulyó Mountain emerged.
As a matter of interest, similar formations can be found on the island of Borneo, in the rainforests of Mulu, which, unfortunately, I was not able to climb during my stay. (I wrote about my trip to Borneo here, here and here). It seems that ff the mountain won't come to Muhammad then Muhammad must go to the mountain. At least in another country, but I just managed to get to these limestone conglomerates.
The forest trail up to the cliffs, apart from a few climbs, is not at all exhausting, so you can even do it with children. The route is well signposted and after less than half an hour you will arrive at the first lookout point after leaving the safe house. I had to fight hard with my fear of heights to venture out to the cliff edge that most reminiscent of a nest, but it would have been a shame to miss the sight. If I could only see the landscape, I would have said that the photo was taken in Switzerland. The view to the valley of the Vág river is alpine and idyllic from above.
In addition, nature made sure to dazzle you on your way with all sorts of rock formations. Almost every rock here has a name, such as the 13-meter-high Gothic gate, but there are also stone mushrooms, harps, and even Maria Teresa.
The hiking trail is officially 7.5 km long (map is here) and has 17 stops, but we roamed 9.9 km. Szulyó Mountain has been a nature reserve since 1929 and is home to many protected animals and plant species, and it is the richest orchid site in Slovakia. If you want something other than rocks and fauna, you may visit Súľovský vodopád waterfall with an additional 1,5 km hiking. We did not have time for this, because we arrived late to our last stop, Súľovský hrad, which is the castle of astonishing beauty.
You can get up here with a pretty steep hike, which is helped by railings, rock-carved handrails and stairs, but the place worth every drop of sweat. From far, the castle is not different from other rocks, it practically merges with them completely.  The castle was built in the 15th century by the Hussites on this hard-to-reach Roháč Mountain peak. It is made up of two independent castles, one lower and one upper castle.
The difference in height is clearly visible between the two buildings, which are connected by a tunnel corridor. After a via ferrata-style handholds, it is possible to get to the top, after which I am not surprised that the place is classified as one of the most inaccessible ruin castles in Slovakia.
The rock castle, which is 632 meters high, was actually a refuge site for the Sulovszky family and it was until the 1730s in use. Although the earthquake of 1703 severely damaged the building, its fate was sealed by fire. Then the fortress was left alone to compete with nature's storms.
Looking down from the top of the castle to the valley I felt the last rays of the sun on my face. I knew the time had come for me to head down the valley again. I arrived back to the parking lot quite tired but the idea of brindzové haluski, special Slovakian cottage pasta, cheered me up. The Penzion Na Kopecku Inn has a great tasting menu, which I didn't missed with a glass of brown beer.
If you ask me what the Szulyó Mountain was like, I tell you with sparkling eyes that it's fantastic. Feel free to add Slovakia to your hiking map if you want to see something special as part of a weekend tour.
Follow my travel stories and adventures on Instagram and Facebook !