While here in Hungary it's almost January, except for the minuses, winter has no news or snow. And I desperately need the white winter and snow. Although I live in a big city, which is not so nice with slants roads, I reconsider my desire from time to time. If it comes to winter wonderland, I recommend Iceland to everyone with a warm heart. A few years ago, I traveled to Iceland in January and I've brought you the story of this journey. In addition to the frozen and northern world lovers, Iceland can give everyone and eternal life memories in winter.
The good news there is a return ticket to Iceland for HUF 20,000 – with Wizzair Club membership and with hang luggage – and you can be reach Reykjavik in 5 hours. Accommodation can be found in the capital or even in the countryside in 10,000 HUF/person/night, and most of the natural attractions can be viewed free of charge. And that's the end of the good news.
Iceland is one of the most expensive countries in the world, as far as food and services are concerned. Although tap water can be consumed everywhere (take a refillable bottle) and you don't have to pay for it. However it's a good idea to prepare in advance for prices (here is a comparison) so as not to be surprised outside. But once you are there, I'll show you what's worth doing in winter Iceland.
1. Northern Lights hunting
 I'm probably not going to tell you a big secret by saying that in winter, the Northern Lights are the country's greatest attraction. I was also most motivated to replace my warm apartment with the wolf-howling cold for a few days to see the aurora borealis in Iceland. But I haven't seen it. I booked a place where light pollution is very low (Thingvellir National Park area). I spent four nights in the country, but unfortunately, the weather was not favorable. Many say that aurora in terms of Iceland is a 50-50 thing, because of the cloudy skies. Just because I haven't had the pleasure of Iceland doesn't mean anyone else won't see the lights.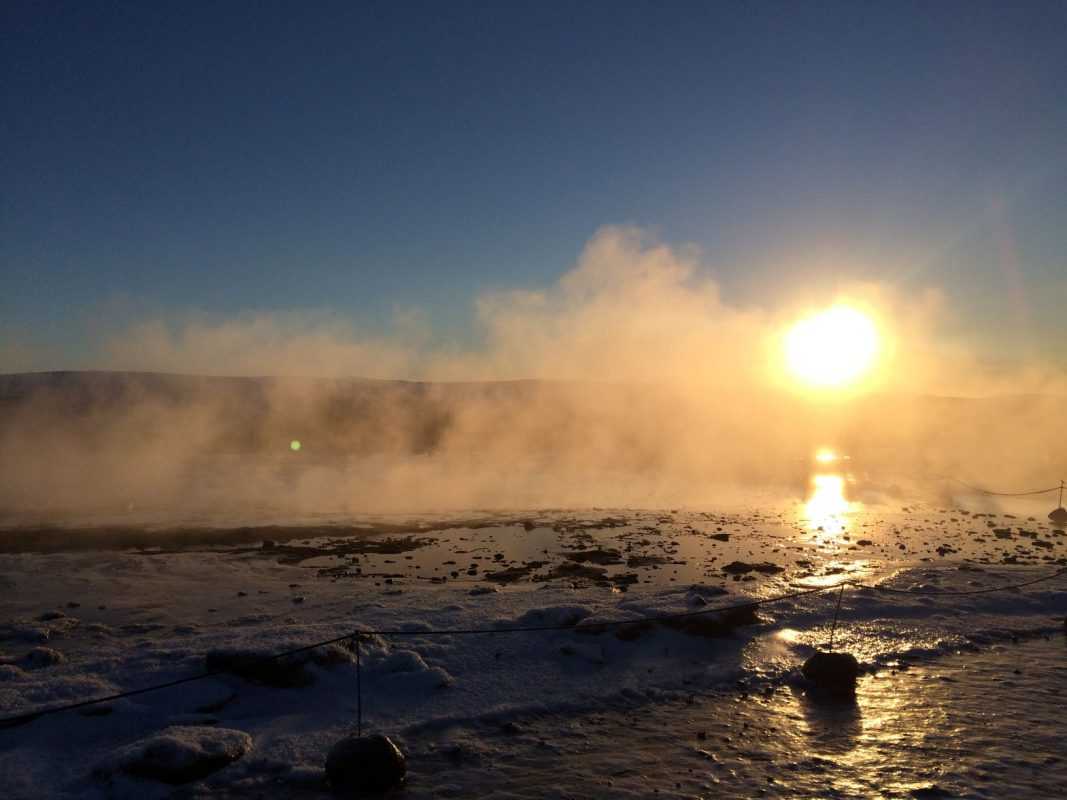 There are many companies (e.g. Gray Line, Reyjkjavik Excursions) who organize nightly, aurora- tours for a period of 3-5 hours starting from €38. But you don't have to go after the aurora as part of an organized tour, in fact. You sit next to a dark beach or mountain, you can catch the aurora just like I finally did in Norway. You can read more about the aurora and Norwegian tour here.
2)Relax in warm outdoor baths
Although I can do this at home, as after Iceland Hungary has the largest supply of thermal water in the world, but instead of the Széchenyi or Gellért baths, how much more cozy is it to swim among solidified lavas? Iceland's most famous spa is undoubtedly the Blue Lagoon, the water of which, to its name, really has an astonishing blue color. It is worth booking an entrance ticket here in advance. Although the truth is that summer is high season in Iceland, and given that the bath is very close to the capital and the airport, the place is usually crowded. But why is this place so special that even National Geographic has declared it one of the wonders of the world?
Its origin dates back to the 1980s. The water from the nearby geothermal power plant was lowered into the lava rock, trusting that it would seep into the deeper layers of the soil. This did not happen, instead, the warm water spread nicely on the surface, to the delight of the inhabitants. The 70% oceanic and 30% freshwater mixture is extremely rich in minerals, siliceous acid and sludge and has been shown to be beneficial in the treatment of many diseases (e.g. psoriasis). For €85 admission, you get a free towel, a glass of drink and an aeration mask, which you can buy on your way out to the spa complex. For me, the water outside after a while was cool in wintertime, although the place itself is fantastic, it's worth trying once. If you just want to see the ice blue water, you can look around the bath without entering it, as a large area is covered with water.
Another good bathing option – and it costs half as much as the Blue Lagoon – is in Laugarvatn. Built around a natural lake, the thermal spa features a sauna and 3-4 outdoor pools with different temperatures seven days a week. Although the watercolor isn't as impressive here as it is in the blue lagoon, for me this place was for some reason more sympathetic. There are fewer visitors, the view of the lake is amazing (according to the photos there is also aurora borealis here). Even if we are brave, enough we can splash in the ice water immediately after the sauna. At least when I was there, I saw such vicious people.
3) Make a trip to the golden triangle
The most popular excursion option from Reykjavik is also known as the golden triangle, which really does describe a triangle on the map in terms of its route. In fact, the tour includes 3+1 locations if the capital is not considered an independent attraction. The first stop is Thingvellir National Park, which is special because you can stand geographically on two continents at the same time, as the European and North American tectonic plates are right below us. The UNESCO World Heritage Site is home to Iceland's largest natural lake, where you can go diving. After Norway, I don't want to go into the icy water for a while, although diving in 5 degrees of water has given me a lifetime experience (you can find a video of this here).
The second stop is Gullfoss Waterfall, which is the country's most popular tourist attraction. As a matter of interest, I would like to note that Iceland has thousands of free visitable waterfalls, all of which bear the name foss, although this is probably only funny in Hungarian. In any case, Gullfoss is indeed one of the most spectacular waterfalls, as the gorge created by volcanic activity pours with great force and bang into the depths. It is not possible to go near the waterfall and in winter there are limited lookout points due to the slippery roads.
Let's get ready here, and at attraction number three, Geysir, that it will be very cold because the water comes off like ice. My phone didn't stand the cold, and it kept turning off – even though the air was no more than minus 5-8 degrees – and my hands froze in the ski gloves. Another piece of advice: never try to warm your frozen hands in lukewarm water. This happened to me and I felt incredible pain and couldn't move my fingers for hours.
At the top of the golden triangle, the term "country of fire and ice" makes sense. In winter you can see the Strokkur geyser shooting hot water at an altitude of 20-30 meters along the frozen ground. It's amazing. The Geyser – after which the place is named – has been inactive since 2000 as a result of an earthquake, but the Haukadalur area, home to 26 active geysers, is considered the world's 5th largest geyser field. It is forbidden to touch or even get close to the water of geysers, as in addition to causing burns, it immediately guarantees freezing pain. The fourth stop of the tour is Kerid crater, which can be visited depending on the winter weather. I think it's better to visit in the summer when you can walk around the crater with safety.
4) Cross the eternal ice field with a sleigh
For adrenaline lovers, I strongly recommend the snowmobile at the top of one of the glaciers, where several local companies (e.g. Glacier tours, Glacier Journey) organize 3-hour trips. Even the climbing up is literally a huge experience with the super jeep, which is used to take participants to the top of the mountain. We were taken to Vatnajöküll National Park, where on the way we sat inside a crawler that looks like a rover, enhancing the already surreal travel experience even further. Snowmobile is a completely safe sport, depending on whether you want to drive or not, you can choose to sit on the front or back of the two-seater sleigh.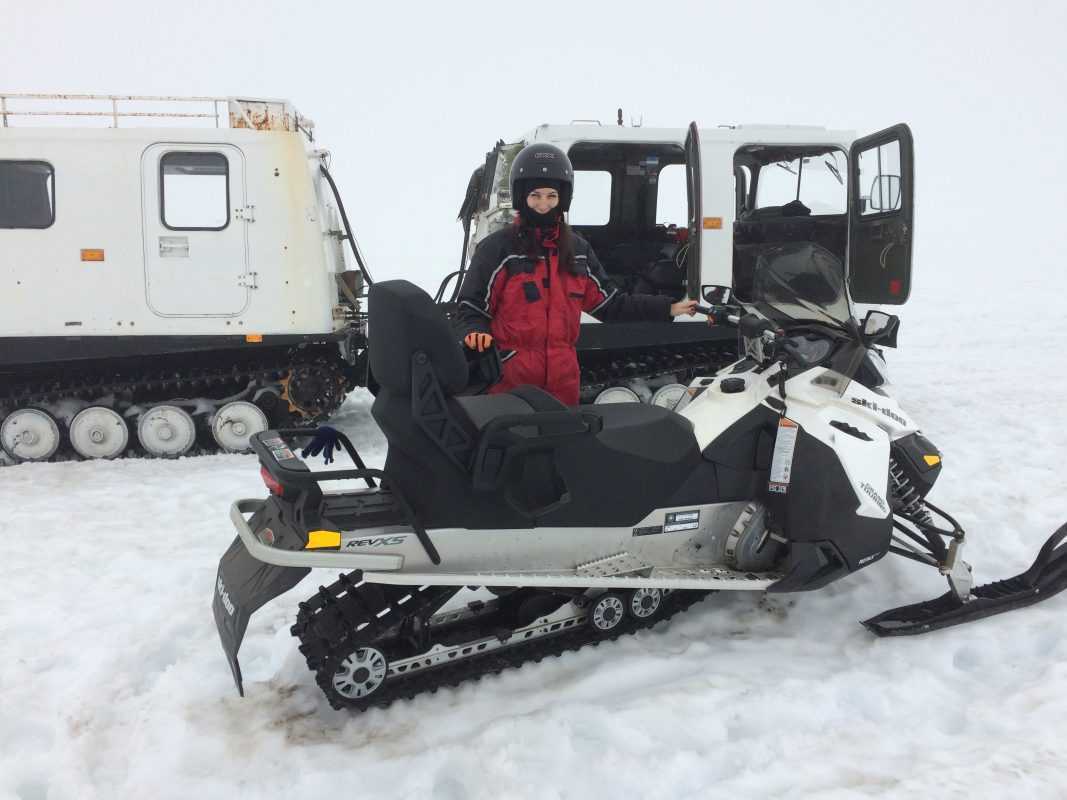 There's an experienced guide at the front of the convoy, you have to follow, you can't really mess it up. It's a fantastic experience to walk through the eternal ice fields knowing that underneath you there is 1 km thick ice shield. Vatnajökull National Park has been a UNESCO World Heritage Site and 14% of Iceland's territory since 2019. Whether you visit here in summer or winter, please leave only footprints here, as you do throughout the country. Do not litter or take anything from nature with you.
5) Visit icebergs and ice caves
In the absence of aurora borealis, but I can say without it, the greatest experience for me in winter in Iceland was Jökulsarlón and the ice caves. Both are quite far from Reykjavik, especially if you're going for a long weekend, so it's worth planning to sleep halfway through a few nights. Only because, like other Nordic countries, Iceland has few bright hours in the winter. I drove 4 hours in the dark to get there in the winter, and I say without exaggeration that the sight made up for the long hours at the wheel.
When you walk in the glacier lake next to Jökulsarlón, you feel very small among the huge and varied icebergs. As well as on the Atlantic coast, where icebergs are already crushed in pieces. As wonderful as the sight is, however, it makes me sad that 70 years ago the lake did not exist, and its creation is the cause of climate change. The glacier is dying on a rapid scale and, along with the Vatnajökull ice cap, scientists say it will be completely gone in 200 years. Just like the beautiful ice caves I've been to around Skaftafell.
I'm optimistic. If not only 1, but also 10, then 100, later thousands, and then millions of people make a small difference to protect the environment (I shared tips on my Instagram page here), we can do it.
Follow my travel stories and adventures on Instagram and Facebook !