Cold weather and restrictions should not prevent us from spending as much time in the open air as possible. But how to prepare for a shorter or longer hike in winter? What you need to pack and what aspects you should consider.
"Time spent in nature is never a waste of time," the saying goes. I couldn't agree more, especially since I started hiking on the National Blue Trail. Now that I completed my 100th blue kilometer and I have always been an active hiker, I would like to share my experience how to prepare for cold hiking conditions. Most of the tips and useful advice apply to all weather conditions. In spring, summer and autumn there can be no excuses not to go out into nature 😉
Planning
The most important part of the tour begins at home, at the desk, or on the sofa. Precisely, where to go? Hiking on the blue trail? A round tour or simple hiking? In addition to the websites of the Hungarian Hiking Association, Természetjáró application can also be a good platform for prior information. When planning your tour, always take your own physical fitness into account. Additionally, the sunrise and sunset times, because in winter it gets dark earlier and the fact that with an average and comfortable pace you can hike 4 km/h at flat terrain.
It's practical advice that you should overcalculate the total duration of the tour with at least 1-1.5 hours to have enough time for rest, meals, and photo breaks. During the autumn and winter seasons, check the hunting season in advance. Before you hit the road, make sure you're not mistaken for a current hunting area. It's also worth checking if there is a point, where you can interrupt the tour if anything happens (e.g. injury, unexpected events).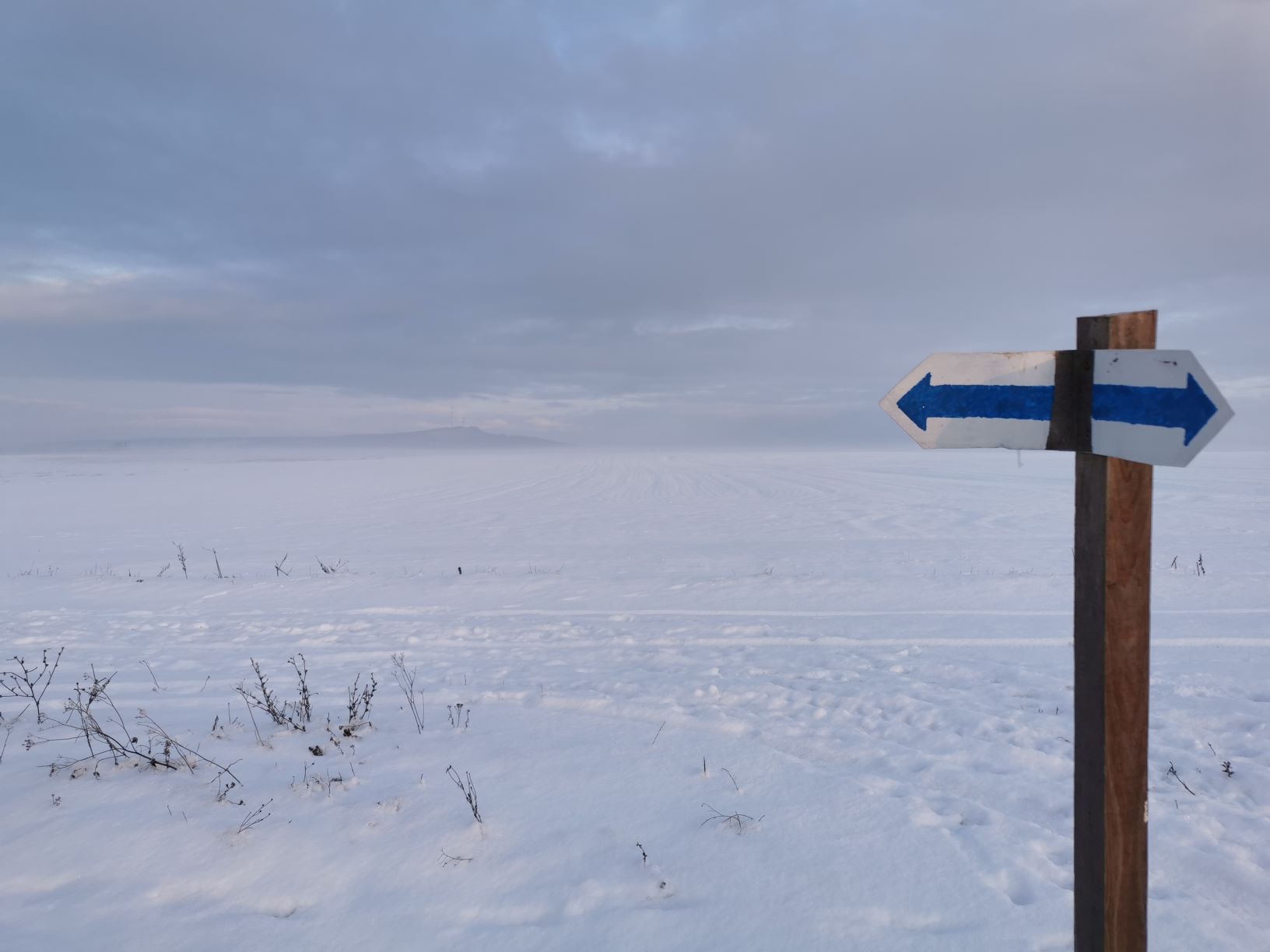 Weather conditions
The golden rule is if you plan a longer hike (<20-25 km) you should start early, preferably at sunrise, so that you can finish the hiking by sundown. At higher elevations, both temperature and soil conditions vary in winter. So it is good to take into account, that after heavy rains or snow melting, there will be mud everywhere. I prefer frozen soil when we talk about winter hikes, but there is a solution for all the conditions. I will talk about it later in the tour equipment section. Check the weather of the location the day before, whether rain or wind is expected. Although there are many sites for weather forecasts, one of the most accurate results is still this Norwegian weather website.
Transport
When it comes to hiking, you have many travel options to choose from. Do you want to get to the site by public transport, car or combined solution? As a multifunction travel planning website, I use menetrendek.hu and to plan my route from A to B. This is especially important for completing the National Blue Trails since you never return to the starting point. Practical advice: always check out the weekday and weekend roaster schedules. If you travel by bus between smaller villages, you can usually buy your ticket from the driver too. In that case, prepare with small banknotes and coins. If you travel by train you can only buy a ticket from the ticket controller on the train only in that case if there is no ticket office, or it's not open on the site you get on the vehicle. Otherwise, you will have to pay a penalty. If you can't find a bus or train from one place to another, always check the schedules from the opposite direction to see if there is a solution.
Useful maps and applications 
It's a good idea to download offline maps to your phone, as there won't be signal in all places during your hiking. Forget Google maps as you won't see the signed and smaller hiking trails on that. As a free app, I use Locus, Mapy.cz. The latter can also be used on desktop too and you can even plan your route in advance. Install a weather app on your phone too to check the conditions and the exact time of sunrise and sunset.
Hiking books and clothing
The first and most important thing is that you don't have to buy the half store to start hiking. Some stuff is useful, especially when you hike in colder weather, but don't waste any extra time and money on unnecessary equipment. First and foremost, you should have comfortable hiking boots. Make sure it's waterproof and keep your ankles properly. If you don't want to get soaked, you should impregnate your boots or can use a pair of gamash against mud and snow. A knee-length zip-up version is perfect.
A bejegyzés megtekintése az Instagramon
Speaking of socks, make sure it doesn't slip in your shoes and rub your feet. It's a good idea to try on your hiking boots buying them with thicker socks. I always bring an extra pair of them in case of need during hiking. Just like a pair of sneakers, which I leave in the car and change for driving. Pro tip: it is worth doing a thorough toenail cut before hiking. It can be really unpleasant, when your toe is pushed in your botts, especially by downhills.
Trousers and underwear (e.g. leggings, heavies, stockings) are a matter of fact how you tolerate cold weather. You shall put several layers on you, but be prepared that if you're hot, you can't easily take the underdress off in the middle of the forest. Unlike outerwear, where it's important to be layered. A thin cotton long-sleeved sweater and a waterproof jacket with a hood to protect against rain are perfectly enough for winter. A waist warmer can be also a good piece of equipment in wintertime, especially when you bend down.
If you're not sure whether you will be cold outside or not, bring an extra top with you, which you can fold small in your backpack. Hats, scarves, gloves are of course necessary for hiking in winter. It's a good idea to buy a pair of gloves in which you can use the touchscreen of your mobile phone. Otherwise, you should take off the gloves all the time unless you use a camera for taking pictures.
Backpack and other equipment
The most important thing is to have a good backpack you can carry with you along the way. For me, the weight limit is max: 5-6 kg, which is comfortable for my knees too. A good backpack, as measured by spongy shoulder straps, has some stiffening in the back. At the front, a good backpack can be attached to the breast and waist and has several pockets in which you can pack food, clothes, papers, etc., and in addition to bottle pockets.  Rubber corsets and carbines outside your bag can be very useful to hold hiking sticks, shoes, sleeping bags.
Speaking of hiking sticks. A lot of people see it as a fashionable tool, but they do a really good job. On special ground conditions and slopes, they help you to move easier and provide a much optimal movement. Make sure the stick is adjustable, foldable, lightweight, and has a spongy material instead of rubber. Hiking on icy ground, anti-skidding stuff under your boots are needed. When it comes raining make sure you protect your backpack with a pull-on, waterproof bag to avoid soaking.
Food and beverages
During the pandemic restrictions and especially while hiking on the National Blue Trails, be prepared that in many places there will be no supermarkets or take-away places. You shall bring all-day food and drink from home. In winter the best solution is hot tea, which you can in a double-walled thermos and its cap acts as a glass. Keep in mind that in minus degrees you will not be able to drink cold drinks (e.g. water), and hydration is important during hiking.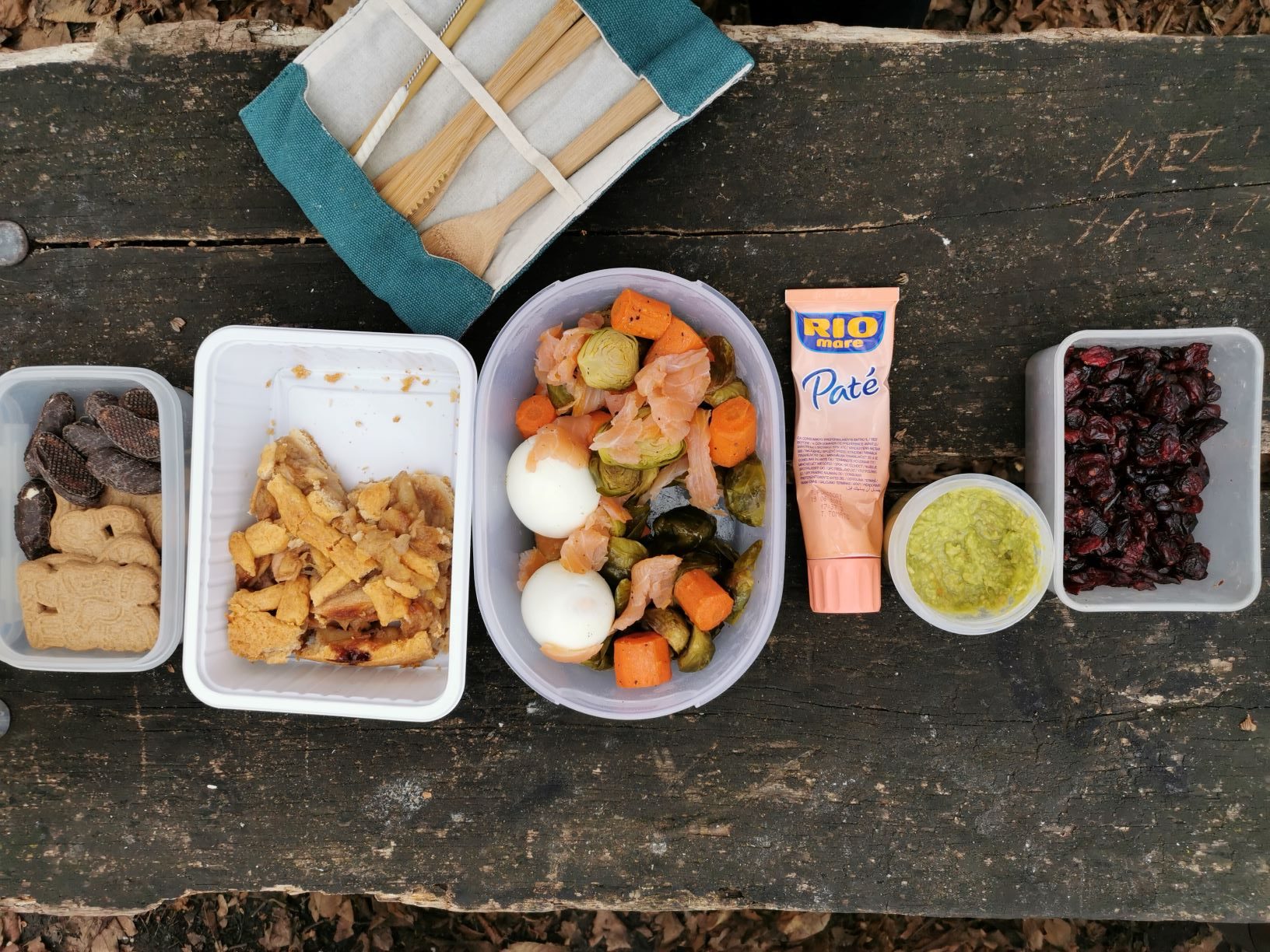 Trick: take hot water with you in a bottle, that will cool down slower in winter. It's a better solution than starting the hike with an already cold bottle of water. Unless you eat sandwiches, it's a good idea to bring cutlery too. I have a set made of bamboo, but even metal and plastic ones fit for eating purposes.
Gadgets and other practical hiking stuff
A headlight can serve you well in caves and in limited visibilities (e.g. dawn, dark).  If you don't have a headlight, your phone's flashlight may be a good solution for a short time, but in this case, you shouldn't have one hand, and your phone will go dead faster. If you're not sure your phone lasts a day without charging, take a powerbank with you. Before hiking make sure you downloaded offline maps on your phone.  After dark, walking along the road a reflective prism can save lives with on your backpack or a high visibility vest. Safety first.
Sunglasses, hand cream, lip care, and sunscreen are also useful stuff in your backpack. Likewise, a foldable sitting pillow. In rainy or cold weather you will not sit on the forest bench. A pillow doesn't take up much space and is available from lightweight polyfoam. If you hike alone and there's no one to take a photo of you, take a tripod with a Bluetooth remote control with you. It can be connected to your smartphone's camera and takes up less space than a half-liter bottle.  Take basic medications with you on the road, like painkillers and band-aids. You might not need them at all, just in case.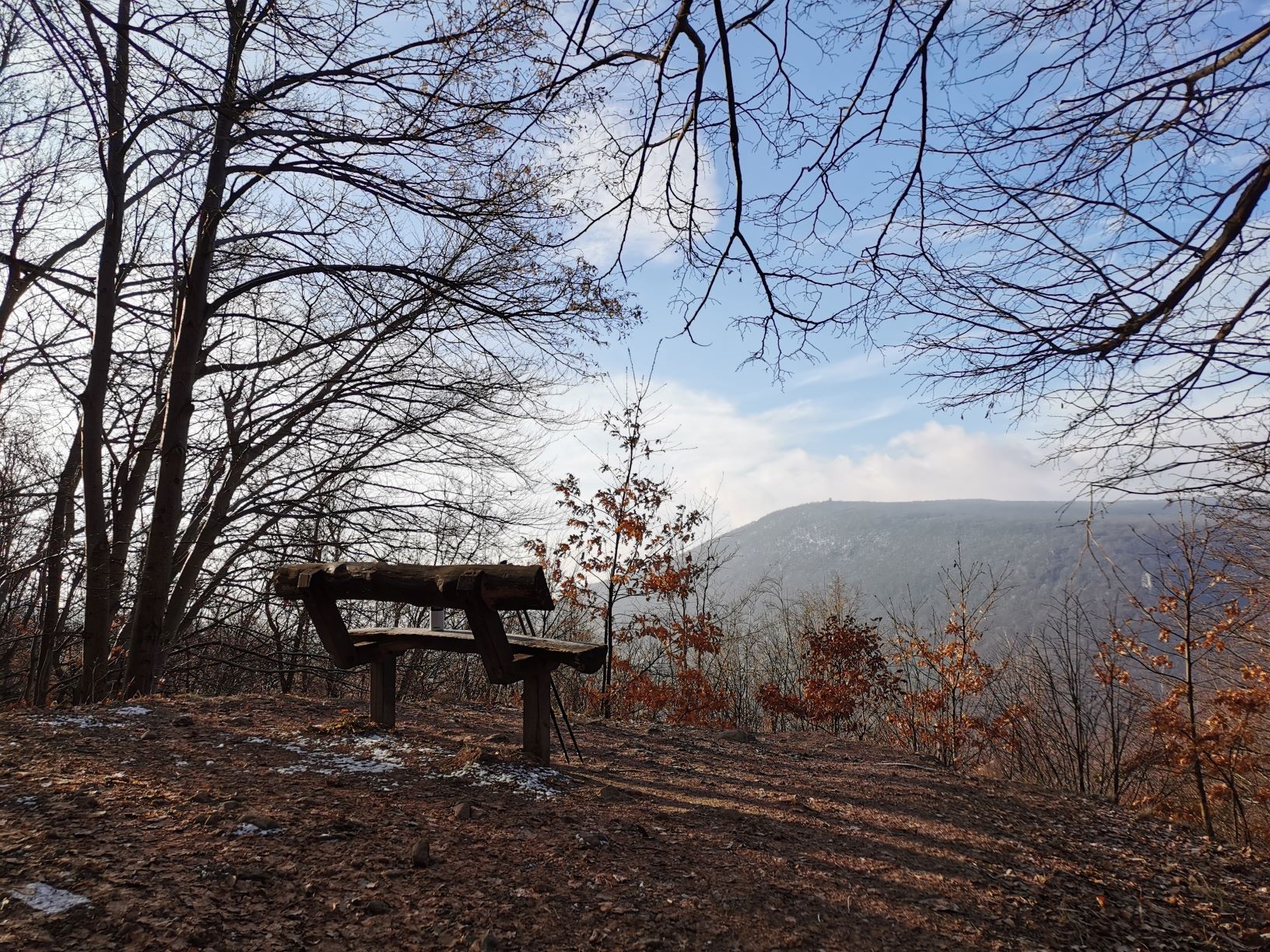 National Blue Trail advices
Always check the stamping points in advance. You find all the useful information and details on kektura.hu website but check the map too on your phone, not to miss them accidentally. Take pre-soaked ink pads with you as they are not available at most sites just the stamp. I keep my National Blue Trail book in a waterproof and transparent envelope in the bag, which protects valuable and existing stamps against soaking. Be prepared that in many places the stamping box is on an electric pole or in a place where there is no even a flat surface for stamping. That's why I throw an A5-sized writing board into the backpack, which doesn't take up space, but it's good to have a surface equalizer.
Finally, another piece of advice. Quite a few sights (e.g. cave, lookout) are not on the National Blue Trail, but a little farther. After all, the aim of the hiking competition is not only to collect kilometers and stamps, but also to get to know the natural treasures of Hungary. So making a detour for a nice place along the hiking trails is always a good idea. Please make sure you keep the natural treasures in the original condition for the next hiker. Don't litter in nature. Leave only footprints behind you while collecting memories.
Follow my travel stories and adventures on  Instagram and Facebook!